NEWS
'Gene Simmons Family Jewels' Clip: Watch Gene Try (& Fail) to Propose to Shannon Tweed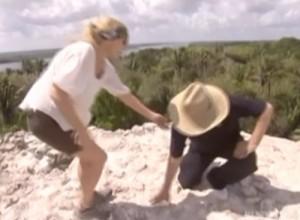 Although we already know that Gene Simmons proposes to the mother of his children, Shannon Tweed — who he has been with for 25 years — it took the music legend a couple of tries before he got the proposal right.
Last night on the season finale of A&E's Gene Simmons Family Jewels, the Kiss star asked their Belize tour guide the best place to propose, and the guide suggested on top of the temple.
Gene started to race up the steps Rocky style and got so tired that he almost didn't make it to the top.
Article continues below advertisement
"I... am tired," he declared, as he stumbled his way up.
Gene still desperately wanted to propose and went along with his plan.
"Stay right there," he told Shannon, in an almost inaudible tone. "I want to tell you something."
But Shannon didn't understand what was happening and got the wrong signal.
"Don't rest because you'll never get up," she said, as she motioned that it was time to descend from the top of the temple.
The tour guide was totally confused by the absence of a ring on Gene's finger.
"Well, she was really tired when she got to the top," he told the guide.
As we know, Gene, 61, finally found the perfect place to propose to Shannon, 54, during their vacation in Belize.
What we still don't know is if she said yes, as the episode was "to be continued."
Do you think she says yes?
Catch the clip below, via TV Squad, and sound off in the comments!
Real Proposal