NEWS
Gene Simmons on 'Idol': "I Don't Think Jennifer Lopez is Going to Mean a Thing"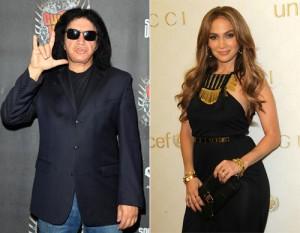 Gene Simmons has something to share. He thinks he would be a great American Idol judge.
OK! NEWS: THE "R" LIST — CELEBRITY APPRENTICE: ALL A BIG SET-UP?
Gene told OK! exclusively, "In terms of qualifications I'm the governor. I've written songs, been in a band for 37 years, toured the world, blah blah, discovered Van Halen, and managed Liza Minnelli, Simmons Records. Done it, been there, 3,000 licensed products. Who else has that qualification?"
Article continues below advertisement
One person who he thinks will do a good job on the upcoming season of Idol is chosen judge Steven Tyler. "Steven is going to be great. He is going to be the only interesting one there because obviously he's going to be qualified to know what he is talking about."
Someone who doesn't have his support? Jennifer Lopez.
Gene shared with OK!, "I don't think Jennifer Lopez is going to mean a thing. Because you can dance and stuff, you don't write songs, your own records. You're a performer. I don't take respectfully I don't take her seriously as being able to spot new talent. So, you can sing, you can dance, that's nice. But Tyler's the real deal. He's not shy. What you really want to do is to have somebody get up there because most people are delusional because they go up there and they're like I'm as good as Ethel Murman."
OK! GALLERY: JENNIFER & MARC GLAM IT UP AT THE LATIN GRAMMYS
Will still people watch Idol?
"It always comes down to people. Television is a people medium and I'm not trying to blow smoke or whatever. If you're not a news junkie, and if someone is interesting on the news you'll stop because you're interested in the people," he explained. "It's people and without Simon Cowell there's nothing."
Gene was approached for the Idol gig telling OK!, "We talked for a short time, but I didn't want to break A&E's heart. But we did speak."
You can watch Gene on the new season of Gene Simmon's Family Jewels on A&E Sunday's at 9 p.m. ET, and for more on Gene and his family check out this week's issue of OK!.