NEWS
George Clooney, Brad Pitt step out for 'Michael Clayton'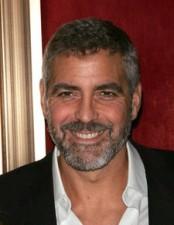 The stars align for George Clooney at his Michael Clayton premiere held at NYC's Ziegfeld Theater. As soon as the bearded boy toy tells a reporter he knows how to spin a story, here comes Brad Pitt. "Hi, old man," George says, as Brad gives him a pat on the back. Wow!
What's Brad like as a dad? "Well, he's not my dad," he jokes with me. What a kidder!
George, 46, is in great spirits, considering he and gal pal Sarah Larson were in a motorcycle accident last week. Wearing a glittering off-the-shoulder number, she hobbles in on crutches, calling out her designer as Armani. How is she feeling? "Better," she says.
Article continues below advertisement
"We're all dinged up but we're OK," George, who spent the day scoring Leatherheads with Randy Newman, admits. "We're just pretty happy we weren't hurt worse."
Co-star Austin Williams, 11, says George gives him great advice. "He told me 'if anything goes wrong, blame it on somebody else.'"
What's so fantastic about the Oscar winner?
"There's no filter," writer/director Tony Gilroy tells me. "He's the most extraordinary public figure that I've been around up close where there's no difference between the person who walks the line and the person who shows up to work every day. It's the same person you get on the phone at midnight. That's a very unusual character trait."
Also attending are Kate Walsh, wearing Jimmy Choos; Tilda Swinton, dressed in Prada; Ellen Barkin, who tells me she can't wait to see George; Jeff Gordon and wife Ingrid, who has dropped all the baby weight from the birth of their 3-month old daughter Ella; Rene Russo, whose brother-in-law wrote and directed the film; and Tate Donovan. Bummerito! I miss Joey Fatone. His *NSYNC bandmate JC Chasez just told me he left Jive Records. (But not my heart, of course.)
Thriller Michael Clayton opens October 12.