NEWS
George Clooney Can't Prank Elisabetta Like Pal Brad Pitt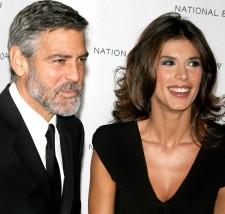 George Clooney and girlfriend Elisabetta Canalis arrive arm-in-arm during the National Board of Review Awards held Tuesday at Cipriani 42nd Street in NYC. Soon, they'll greet Maggie Gyllenhaal and hubby Peter Sarsgaard inside, along with Anna Kendrick and a sunglasses-wearing Morgan Freeman.
It's day two with the lovebirds, who picked up honors at the New York Film Critic's Circle Awards the previous evening where George joked, "She's homely, but what do you do? She's just having a tough time."
Article continues below advertisement
The silly slight doesn't phase the Italian beauty, who signed on to model for Roberto Cavalli. Still, the Up In The Air star is careful not to prank Elisabetta – unlike his pal Brad Pitt.
"I can't do it to her," the best actor winner says. "I'll get hit!"
Precious star Gabourey Sidibe also has Brad on the brain, admitting the Oscar buzz has her in a tizzy about whether she'll come face-to-face with the heartthrob during the Academy Awards.
"He's awesome," the breakthrough performance by an actress winner tells me. "He's Brad Pitt!"
In fact, she won't let any man get in the way of her chance with Brad. She admits she'll bring her mom as her date.
An Education star Carey Mulligan, sans boyfriend Shia LeBeouf, gives a leading response when asked what characteristic she appreciates most about him.
"Nice genes/jeans," the best actress winner says with a smirk.
Article continues below advertisement
Ha!
Meanwhile, director/writer/producer J.J. Abrams hopes to convince Meryl Streep to guest star in his Star Trek sequel. He's busy writing the script.
"I'm gonna find her right now, and get her commitment," he tells me.
While we don't see Meryl on the red carpet, she may have slipped inside like she did at last night's New York Film Critic's Circle Awards. She rushed in wearing an average black coat and aqua-colored hat-and-gloves set. So regular.
Here are Regis Philbin, with wife Joy, and Michael Douglas.
What's the secret to a happy marriage?
"It's a lot of patience," Reege says. "You have to be very patient 'cause every day and every night, there could be another problem, so you have to be patient."
Joy adds, "He says I'm sorry a lot."
Regis quips, "And she says nothing."
Michael's tried-and-true recipe?
"Respect."