NEWS
George Clooney the Humanitarian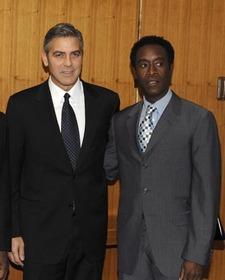 On Thursday at a conference of Nobel peace laureates in Rome, Ocean's 11 co-stars George Clooney and Don Cheadle received the Peace Summit Award for their efforts to bring awareness to the ongoing genocide in the Darfur region of Sudan.
The actors, who founded the Not On Our Watch charity, hope to shed light on the more than 200,000 people who have been killed in the Sudanese conflict. "We have an American election coming," George said after receiving the award. "So this is the time to put pressure on American candidates, because believe me none of these people want to talk about this issue."
Article continues below advertisement
George also pointed out that, despite the millions of dollars he's been able to raise for aid to those affected by the horrors in Darfur, things have sadly not yet improved. "We stand before you as failures," he explained. "The simple truth is that when it comes to the atrocities in Darfur those people are not better off now than they were years ago. The murders continue, the rapes continue and some two and a half million refugees are yet to go home."