NEWS
George Clooney, Jennifer Garner Wow At National Board of Review Awards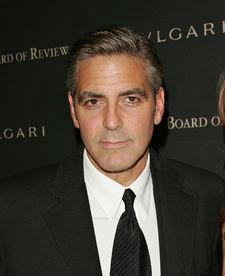 George Clooney, with girlfriend Sarah Larson in tow, yuks it up with everyone he can at the National Board of Review Awards, where he is being honored for best actor in Michael Clayton.
He grabs my arm and gives me a knowing wink. Where does he keep his awards? "I have a room," he says. "I actually have a room. I have one award."
How does he feel about the acclaim for his role? "It's definitely better than feeling terrible about it later," self-deprecating George says.
Article continues below advertisement
What does co-star Tilda Swinton think of the couple? "I love Sarah," she says. "She's a beautiful girl, really beautiful. I never knew him before he was with her, but he seems pretty happy to me."
Here's the mesmerizing Jennifer Garner. When a Spanish TV presenter from Calle Que Calle asks Mrs. Affleck if he can kiss her hand, she obliges. As she lifts her blinged-out hand, Jennifer coos, "bless your heart."
Hubby Ben, who wins best directorial debut for Gone Baby Gone, moves through separately. His best supporting actor brother Casey's lips are sealed about his new baby.
Best actress winner Julie Christie isn't sure if her jewels are Bvlgari – or if they're even real -- while Michael Douglas and Catherine Zeta Jones sail through.
Honoree Javier Bardem is thrilled to see his old buddy from Spain's Calle Que Calle, who whips out a fake Oscar in case the prestigious awards show doesn't happen due to the writers' strike.
Article continues below advertisement
Denzel Washington, who accompanies his Great Debaters co-star Jurnee Smollett, says the cast "picked themselves. They stood out. It was a good feeling."
Meanwhile, Emily Mortimer doesn't feel badly about leaving her son Sam, 4, with their "fabulous" Serbian au pair. "He's pleased when we go out because he gets to stay up late and have fun with her," Mrs. Alessandro Nivola says.
Best director winner Tim Burton has a little one at home, too. How's the month-old daughter he shares with Helena Bonham Carter? "Good, I think," he tells me.
Speaking of family, here's Glenn Close and her 20-year-old daughter Annie. Does she like coming to these events?
"It's very good," Annie laughs. "I'm blinded, but it's great."
Oh, and here's Phil Donahue and wife Marlo Thomas. "Our film is titled Body of War," he tells me. "It'll be in a theater near you soon, and I hope you'll come. I'll park your car."
What an offer!