NEWS
George Clooney Lost His Virginity 'Too Young' at Age 16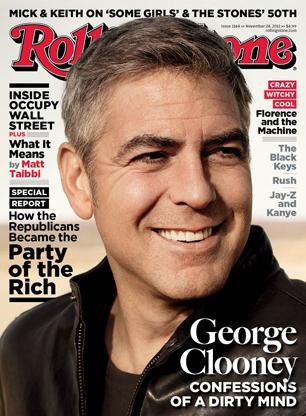 In the new issue of Rolling Stone, George Clooney reveals how shockingly young he was when he lost his virgnity — but also proves he's still young at heart!
OK! NEWS: GEORGE CLOONEY & STACY KEIBLER — IT'S SERIOUS!
George, 50, tells Rolling Stone that he was only 16 years old when he lost his virginity, and admitted that he was "young, very young; too young."
He went on to reveal that he was even younger when he had his first orgasm!
Article continues below advertisement
"I believe it was while climbing a rope when I was 6 or 7 years old," he says. "I mean, nothing came out, but all the other elements were there. I remember getting to the top of the rope, hanging off the rope, and going, 'Oh, my God, this feels great!'"
OK! GALLERY: GEORGE CLOONEY IS DAPPER & DASHING AT IDES OF MARCH NYC PREMIERE
And while George may have had his sexual awakening at a younger age than most, he never lost his youthful sense of humor: He loves a good fart joke!
"It's one of the funniest things in the history of mankind. Even the idea of a fart makes me laugh," George said. "Saying the word 'fart' makes me laugh. I have iFart on my phone. I have remote whoopee cushions. Farts: to me, there's nothing funnier."