NEWS
George Clooney: Messenger of Peace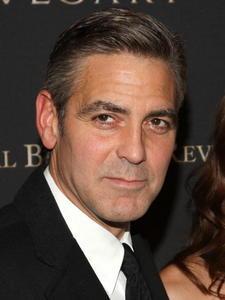 George Clooney has had many banquets and events thrown in his honor, but none by the United Nations… until today.
Recently named a Messenger of Peace, the Oscar winner stopped by the U.N. headquarters in New York Thursday morning for a ceremony commemorating his new title. Secretary General Ban Ki-moon honored George, who arrived with his parents, Nick and Nina, and was greeted by fans the same way he would be on a red carpet — with "oohs" and "aahs" and lots of camera flashes.
Article continues below advertisement
George is the U.N.'s ninth ambassador — others are Michael Douglas, Elie Wiesel, Jane Goodall, Yo-Yo Ma, Daniel Barenboim, Paulo Coelho, Midori Goto and Princess Haya of Jordan — and was selected for his ability to turn the spotlight on grave international political and social issues.
He is most famous for his campaign to end the war in Darfur, from where he had just returned.
As earlier in the week, the 46-year-old humanitarian missed Sunday's SAG Awards to tend to his peacekeeping operations in India.