NEWS
George Clooney Remembers Being Fired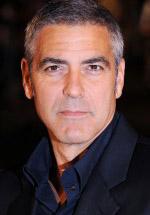 George Clooney plays a corporate downsizing expert in Up In The Air, which is in select theaters now.
While he's calling the shots in the film, he's been on the other side in real life.
"I've been fired off a lot of TV shows over the years," the Oscar winner, 48, says. "I like when they pick up a show, and they go 'hey, the show's picked up' and then they replace you. I did this show called Baby Talk, which was the sitcom of Look Who's Talking, and Ed Weinberger, who was the producer – he and I didn't get along."
Article continues below advertisement
He continues, "Eventually, I'm not sure if I was fired or quit from that one. But we had a baby that we shot for three weeks with, and Ed hated the baby so much that he fired the baby. Can you imagine if you're twelve weeks old and you've already been s***canned?"
Now that his fortune has changed, George has his dream role in mind.
"I've been waiting for a musical for a long time, but no one brings it to me," he says. "But I am not what you would consider a good dancer. Oh, I poplock like a motherf*****."
The dapper actor certainly remembers when his career was "up in the air."
"Pretty much every other year it goes up and down," he says. "You've gotta remember that I had twelve or so years of really bad television under my belt. I've saved up some really bad years. Yeah, I remember them very well, and there will be more of them in the next coming years. I'll enjoy that."
What advice would he give other actors?
Article continues below advertisement
"I would say you're never quite as good as they say you are when they say you are, and you're never quite as bad when they say you're bad."
An Australian reporter asks how George is cutting back amid the economic downturn, and he totally goes there.
"I fired six of my drivers," he says with a smirk. "I've gotta tell you – at some point, eight or nine is fine. And I put one of my planes on eBay. I sold that. Yeah, I've had to downscale since the economic recession."
Cracking jokes is just George's way.
"He's a lovely man with no sense of entitlement," director Jason Reitman tells me. "He's a good human being."
Twilight star Anna Kendrick, who plays his assistant in the film, seconds that thought.
She tells me, "George is everything you want everything George to be. He is disgustingly charming and generous and funny. George Clooney gives me hope for everyone that he can be so professional and so talented, and never exhibit any kind of diva behavior or be unkind to anyone around him. If George Clooney can do it, nobody else has any excuse."
Article continues below advertisement
She adds, "I was terrified of working with him. I was absolutely terrified, and I think he's incredibly smart and knows that people get uncomfortable around him because he's one of the most famous people in the universe. I think he's good at being aware of that, and trying to make everyone comfortable. I think he went out of his way to make me feel comfortable around him. He makes you feel comfortable. It's almost unfair."
Hm, how?
"I think it's a skill he's developed over so many years of being George Clooney. It's a very specific thing that he does, but I can't really put my finger on it. It's the magic of G.C."
Up In The Air is in select theaters now.