NEWS
George Clooney Talks 'Ides of March,' Practical Jokes & Whether He Watched 'DWTS'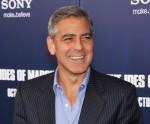 Ode to George Clooney, right? Can the man do anything wrong? He not only stars in the political drama, The Ides of March, he directed it, co-wrote it and dazzled on the red carpet premiere last night in NYC! He took time to dish about dreamy Ryan Gosling, practical jokes and whether he watched Dancing With the Stars this season.
Considering that Ryan called George "dreamy," the director joked with reporters, "I don't like that man, Mr. Tall and Handsome but I'm told he will grow out of it. He's working. I'm surprised he's not here tonight. There are a few actors that -- I was an actor at the same age he is. I couldn't do any of the things that he can. I had a mullet and was in some bad sitcom."
Article continues below advertisement
VIDEO: WATCH GEORGE CLOONEY, JESSICA ALBA, COLIN FARRELL & MORE TAKE PART IN BONO'S F WORD PSA
As for the political drama itself, George mused on which is harder: Being a politician or actor. "Oh, I think it's much harder and the standards are so much gruesome for politicians. Sure, because an actor fails and nobody really, nothing really terribly bad happens except maybe they don't get cast. A politician can end up in a lot of trouble." Then, when asked who he supports these days, George indicated, "I'm a Democrat so I support Democrats."
Movie aside, what is up with all the skinny dipping talk lately? He quipped, "We weren't skinny dipping!" He added, "Charlie Rose, let me tell you. First, we got Walter Cronkite to jump in, then I got David Gergen to jump in and I used Walter Cronkite to get Gergen to jump in and then I used Marissa and Evan in the lake to get Charlie Rose to jump in."
OK! GALLERY: GEORGE CLOONEY & RYAN GOSLING GOOF AROUND AT IDES OF MARCH PREMIERE IN L.A.
Article continues below advertisement
So, maybe this is like a rite of passage at his home in Lake Como? "It funnier when I go upstairs and put a suit on and then I jump in the lake."
Considering he's known to be quite a prankster, apparently he's working on one right now with fellow thespian, Brad Pitt. "I am in the middle of one that is going to kill him. I can't tell you."
About to enter the theater, George mentioned he brought "my mom and dad" as his date and then laughed off the question as to whether or not he watched Dancing With the Stars which starred his ex-girlfriend, Elisabetta Canalis. "Haha! I knew you had to ask. Alright, I'll see you guys later."