NEWS
George Clooney's Big Homecoming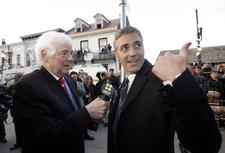 It was a homecoming for the ages when George Clooney premiered his latest flick Leatherheads Monday night in his hometown of Maysville, Ky.
Thousands came out in droves to the Washington Opera Theatre to see their hometown boy done good, including, of course, pops Nick Clooney, a former newscaster, pictured here interviewing his son.
"This is a home for us, and we're very proud to be able to bring this back full circle," the actor said on the red carpet.
Article continues below advertisement
Maysville and the Clooney clan indeed have very deep roots – George's aunt, the late Rosemary Clooney, premiered her 1953 film The Stars Are Singing there and his great-grandfather was mayor of the tiny town that sits 16 miles east of Augusta, where George was raised.
Also on hand for the premiere was co-star Renee Zellweger, who was warmly embraced by the Maysville public – Mayor David Cartmell declared it "Renee Zellweger Day."
Don't think George got the short end of the stick though.
"Since Renee took this day, we thought we would proclaim every day in Maysville to be George Clooney day," the mayor said.
Earlier on Monday, the Oscar winners charmed the residents of Duluth, Minn., the setting of their 1920s football romantic comedy. Leatherheads, which George, 46, also directed, opens April 4.