NEWS
George Hamilton Gives Son Ashley 'DWTS' Advice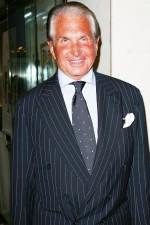 Actor and former Dancing with the Stars competitor George Hamilton gives son Ashley an extra edge on his DWTS competitors, including Aaron Carter, Tom DeLay, Melissa Joan Hart, Mya and Kelly Osbourne.
According to the 2006 veteran, all he needs to succeed is Red Bull, a partner like Edyta Sliwinska and his natural charm.
"He calls me up – 'Dad?' I say 'Yes, I know' – and he says 'Dad, what do I do?' I say 'well, you can be good for a minute and 55 seconds always, if you get a Red Bull,'" George, 70, tells OK!, laughing, during an event for the new film My One And Only held in NYC last night. "I said, 'Drink the Red Bull just before you go down those stairs, and when they say 'and now dancing the cha-cha' and you hear that Red Bull ringing in your ears, for a minute and 55, just smile. You're on a good ride, pal.'"
Article continues below advertisement
George continues, "He said, 'Well, what do I do then?' I said 'Find an attractive girl and flirt with her, instead of looking concerned in the green room about all the problems that are going on and what the leaderboard says. Let Tom Bergeron worry about that. You just flirt with the girls. They'll like that.'"
Like Donny Osmond, whose sister Marie competed in 2007, it pays off to have a family history on the show. George's former dancing partner Edyta is teaming up with Ashley, 34, for the ninth season, which kicks off Sept. 23 on ABC.
"Edyta said to me, 'Don't worry, my little prince. If you fall, I'll be there,'" George tells OK!. "She said 'I had Evander Holyfield last year.' I didn't believe her until I started to fall, and this arm came out of the ground of steel, and she stuck with me. She said 'I could spin you on this, my little prince.' I thought 'she knows her stuff.' Lo and behold, he's dancing with her. So, father had the great Polish princess, and now he's got her. It'll be very interesting and fun to see it."
Article continues below advertisement
Ashley's natural charm may make him a winner.
"I said, 'Ash, all you need to do in this thing is just be yourself. If you make a mistake, make the mistake. People will love you for that. Don't try to be cool, don't try to be slick,'" George tells OK!. "I said 'I know how to be slick, and I found at every moment that I was about to fall.' Every time I went there, I thought the only way to make it work was to be entertaining. Don't try to be a great dancer – just be entertaining. And the audience kept me on because I was having fun, entertaining."
Even though George speaks from experience, he doesn't sugarcoat reality.
"I had nothing but a good time doing it," he says. "I went in, I had a busted knee – I had it replaced already – I had four broken ribs and two shoulders that were frozen. They just looked at me like I was Sea Biscuit. They thought I was going to go down at some point, and they wanted to have it on film. And I didn't. I got through it all."
He remembers, "There's Jerry Rice saying 'oh man, my back's hurting, my knees are hurting.' I said, 'Jerry, you are the best football wide receiver we ever had in history, you're 42-years-old pal, suck it up, I'm 68.' He would laugh, and we would go down and do it. He finally won that night, and I was so happy. I thought 'I couldn't go another inch.' I just didn't want to do it. The jitterbug was coming up, and I thought 'no way.' But my son's got the energy."