NEWS
George Lopez Apologizes to Kirstie Alley For "Pig" Comment; Actress "Wants His Kidney"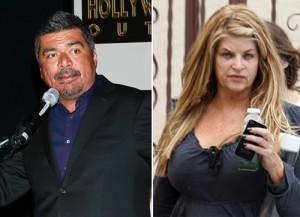 George Lopez messed with Kirstie Alley, and the brazen actress has no problem firing right back! On Tuedsay, George compared Kristie to a pig after her Monday night debut performance on Dancing With the Stars, and continued with a series of rude insults that were not funny.
"She did a nice job, her little hooves tapping away," George said during his late night TV talk show, Lopez Tonight on Tuesday. "Before the show she went to the market, then she had roast beef, and this is her going all the way home," he continued followed by a video of a pig squealing from a recent Geico commercial.
Article continues below advertisement
And Kirstie wasn't going to let George slide.
"Don't worry about George's comments...just remember what happens to the big bad, drunk woolf...falls in a boiling pot of vodka.Piggy laughs," Kristie wrote yesterday afternoon.
Kirstie's Tweet led to an apology from George, who Tweeted: "I misjudged the joke. No malice was intended and I apologize to Kirstie."
But Kirstie didn't except his apology, Tweeting today: "@georgelopez I don't need or want ur apology...I want your kidney dude..on behalf of ur X and all the women uv insulted...give it back"
And she didn't leave it at that either, following up with a second Tweet explaining why she could not grant him forgiveness just yet.
Article continues below advertisement
Watch Kirstie's performance below which earned her a 23 out of 30, the second highest score of the night!