NEWS
George's Guys' Night Out!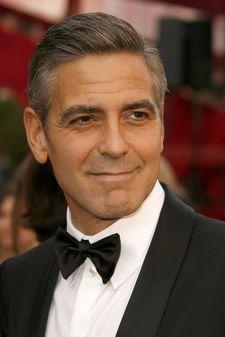 Every good man needs a night out with the guys once in a while, and on Wednesday night, was no exception. The A-list star met pal Rande Gerber (married to Cindy Crawford) at the night club owner's hot spot, Stone Rose, inside L.A.'s Sofitel Hotel.
Like a scene out of one of the Oceans' films, the guys wowed female onlookers as they strode through the club clad in black blazers and black shirts. An eyewitness says the pair was recognized right away, but instead of hiding out in a dark corner, Clooney and Gerber chatted with fans, including them in conversation and never turning a single person away.
Article continues below advertisement
One of those "fans" was Laguna Beach's Kristin Cavallari, who according to an eyewitness, went running over to meet George as soon as he arrived.
"The funniest thing I saw was after Kristin Cavallari met George Clooney and went back to her table she was telling her friends she was so excited that George introduced himself to her," the source tells OK! exclusively. "She was so excited. She was talking to Rande Gerber and hanging around until George introduced himself.
Aww, now isn't that just the way you'd like your favorite celeb to be — in real life?
Later in the night, the twosome moved to a table by the deejay booth — then continued their good time on the dance floor before checking out around 1 a.m.