NEWS
Gerard Butler Claims Exhaustion in Toronto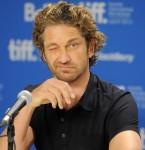 It isn't easy being a movie star, right? Filming on location, channeling different roles, then jetting all over the world to promote it! Take it from Gerard Butler, it can indeed get downright tiring. While in Toronto promoting Coriolanus, we heard him dish about his state of exhaustion at the movie's press conference. Add to the mix the fact that he loves Toronto and mentioned his father used to be an umbrella seller (yes, he wore an umbrella hat with a maple leaf - the father, not Gerard), he's busy promoting his movies amidst the city he wishes he had more time to enjoy.
Article continues below advertisement
Not only is Gerard promoting the Shakespeare story, at its press conference yesterday he mentioned he's simultaneously promoting Machine Gun Preacher. He explained, "I woke up this morning and I've never been so exhausted in my life." The Scottish actor added, "I thought, 'If I could just die now and if someone could just let me know, I would take it!' "
OK! GALLERY: HOLLYWOOD GETS GLAM AT 2011 FOREIGN PRESS 2011 INSTALLATION
To this point, Coriolanus producers sitting in the first row of the press conference audience chuckled as they did for most of the comments made by the jovial actor.
Looking a little bit slimmer lately wearing navy pants and a black fitted polo shirt, a very buff Gerard also commented about the bloody fight scenes with his director Ralph Fiennes who also stars in the movie.
OK! GALLERY: GERARD BUTLER & ANDREW GARFIELD LEAD THE HUNKS AT THE BAFTAS 2011
Article continues below advertisement
"The fight that we had, which to this day remains the closest thing to a homosexual experience that I've had, and may be a career-changing thing for both of us." To which point Ralph added, "We rehearsed that fight exhaustively."
After the cameras stopped rolling at the presser, Gerard and Ralph, along with costars Brian Cox and Jessica Chastain, stood up to leave but not before Gerard leaned over to hug her and then he posed for a few photos with Ralph.
Coriolanus opens in theaters nationwide on January 13.