NEWS
Gerard Butler Talks 'Machine Gun Preacher' Set Accidents: "I Was Shot Twice in the Head"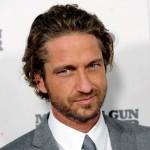 To say Gerard Butler suffered a few on-set accidents while filming Machine Gun Preacher would be an understatement. But the handsome actor was not only willing to take a few hits (or shots to the head) for the film, he actually enjoyed it!
OK! GALLERY: GERARD BUTLER DISCUSSES 300 SEQUEL AT MACHINE GUN PREACHER PREMIERE
Earlier reports said Gerard had a accident involving his eye on set, but at last night's premiere of Machine Gun Preacher in Beverly Hills the actor shared a few more accident stories.
Article continues below advertisement
"Listen, you do a movie like this and you get into a few accidents," Gerard told reporters. "I ripped a tendon here points to his groin area above left leg in the same scene when I am running to save the kids. It still is an issue and then I was shot twice in the head by Souleymane Sy Savane."
But don't worry too much, it wasn't an actual bullet.
"It was a shell. I know, it sounds better to say shell, but the shell hit me and I was pouring with blood," he explained. "Finally about 20 minutes later we got the bleeding to stop and then another shell hit me within half an inch of the first one. Slit my head again and then I realized it was an issue with where I was standing."
Did it hurt?
"It's always scary when you get hit by a moving object that's hot and traveling very fast," Gerard admitted. "It takes you by surprise."
OK! GALLERY: BULGARI EVENT BRINGS OUT THE BEST IN GERARD BUTLER
But the 300 star has had his fair share of on-set injuries and says this wasn't the worst he has suffered.
"I have scars going down my back. I couldn't walk for two weeks once," he told OK!. "I have so many tendons that I have hurt. I beat myself up really when I do these movies."
Article continues below advertisement
Not to mention, Gerard has been losing a lot of weight for his next project, Mavericks.
"That doesn't help either," Gerard admitted to OK!. "When you put on weight for movies, you build up and I train really hard and then the next minute you are like playing soccer and I was training soccer like six hours a day on a soccer field. I have gone through major weight loss."
"I have been surfing, too, so I sort of beat myself up there obviously falling off a lot," he added. "But to be honest, I love this sh**!"
Reporting By Gena Oppenheim