NEWS
Get Caught in the Speidiweb!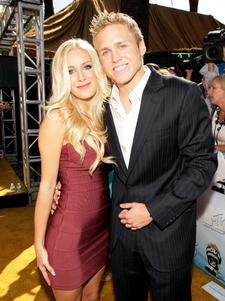 Get ready to get entangled in a Speidiweb.
Heidi Montag and Spencer Pratt, reality TV 's couple everyone loves to hate, is ready to weave the biggest and most populated web the Internet has ever seen -- the one and only Speidiweb, their forthcoming social networking site.
"We're about to launch our social website," Spencer tells Extra. "It's going be bigger than MySpace, bigger than Facebook."
The two are determined to get Speidiweb off the ground running and brand themselves a power couple empire, not much unlike another super-duper couple, David and Victoria Beckham.
Article continues below advertisement
"They're great with their branding, but Speidi is going take it to another level," Heidi says. "I mean, I definitely want to surpass both of them."
Speidiweb might also feature sneak peeks of Heidi's new tunes from her upcoming album. One song that definitely won't be on there, though, is "Higher," the "leaked" single from early winter whose video was much reviled and mocked online.
"I didn't really like the song," the 21-year-old says. "My boyfriend and I shot it in ten minutes on the beach as a joke and put it out, but now I'm really in a studio and I'm really doing my album and music."
Despite the criticism, Heidi says she's not discouraged from pursuing her music goals.
"I think there's people who frown upon and hate on whatever you do, but I think you have to focus on the positive."