NEWS
Get in the Celebrating Spirit With Fun Holiday Cocktails!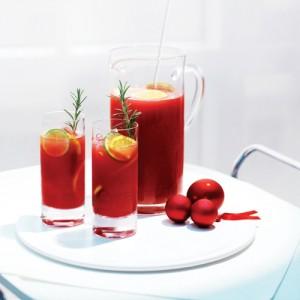 Holiday party season has arrived! When throwing the perfect seasonal bash, nothing's more important than serving the right drinks. With some inspiration from celebrity-favorite cocktails and hotspots, here's some must-try recipes that will be a guaranteed hit at your holiday party. Cheers!
DRINK: S'mores
WHY WE LOVE: This scrumptious drink is served at the famous Gerber Group bars that celebs from the Kardashians to Cameron Diaz and A-Rod have frequented. Drink up!
Article continues below advertisement
INGREDIENTS:
1 1/2 oz Blended Whiskey
1 1/2 oz Dark Crème de Cocoa
3/4 oz Cinnamon Schnapps
Splash of milk
MAKE IT: Garnish with gram cracker crust rim and 3 mini marshmallows. Served in a Martini glass.
DRINK: Savory
WHY WE LOVE IT: EFFEN vodka was a hit with celebs at Mercedes-Benz Fashion Week parties and this cocktail brings us back to the runway.
INGREDIENTS:
2-3 parts EFFEN
½ part Vermouth
Choice of fresh Savory herbs: Thyme, Rosemary, Tarragon, Basil or Sage
MAKE IT: In a mixing glass muddle the selected herbs with the vermouth, add EFFEN and shake with ice. Then double strain into a chilled cocktail glass. Garnish with an olive that has been speared with a sprig of herb (thyme or rosemary) or wrap a leaf of herb around olive and spear with cocktail pick.
DRINK: Inocente Rosemary Fresca
WHY WE LOVE IT: This Inocente concoction was created by Duane Fernandez of New York hotspot DBAR and was served at Prince's recent concert in New York.
Article continues below advertisement
INGREDIENTS:
1/2 ounces Inocente Tequila
3/4 ounce Elderflower liqueur
1/2 ounce Rosemary syrup
1/2 ounce Fresh lime juice
Topped with Prosecco
Fresh rosemary
MAKE IT: Load a cocktail shaker with ice, add 1 1/2 oz Inocente tequila, squeeze in half a fresh lime juice, pour in 1/2 oz Rosemary syrup, layer on 3/4 oz Elderflower liquer and shake. Pour into tall cocktail glass, top with Prosecco and clip a peice of fresh Rosemary and for a holiday touch add three fresh cranberries for color.
DRINK: The Moscow Mule
WHY WE LOVE IT: The Russian Standard Moscow Mule was served at Halle Berry's Frankie & Alice party recently in Los Angeles and this simple and easy-to-make drink will be a hit with guys and ladies!
INGREDIENTS:
1.5 oz Russian Standard Vodka
1 Lime Wedge
5 oz of Ginger Beer
MAKE IT: Build cocktail over ice in your Russian Standard Copper Mug. Add 1.5 oz of Russian Standard Vodka. Squeeze a wedge of lime.?Top with 5 oz of ginger beer.
Article continues below advertisement
DRINK: Basil Hayden's FlipNogg
WHY WE LOVE IT: Created by Tona Palomino, mixologist at famed wd~50 restaurant in New York, this drink tastes like egg nogg with a side of apple pie!
INGREDIENTS:
1 1/2 parts Basil Hayden's® Brown Butter Bourbon
1 part Apple Cider
1 part Boiled Cider
1 dash Simple Syrup
1 Egg Yolk
Powdered Cinnamon
MAKE IT: Chill a rocks glass with ice and water. Combine all ingredients in a cocktail shaker with ice (add the egg yolk last). Strain cocktail into a glass and garnish powdered cinnamon.
DRINK: Holiday Punch
WHY WE LOVE IT: There's no better drink that's easier to serve and more fun than a punch bowl and this 7UP drink is one sweet party treat.
INGREDIENTS:
48 ounces 7UP
64 ounces Hawaiian Punch Fruit Juice, Fruit Juicy Red
1/2 cup ReaLemon 100% Lemon Juice
32 ounces Canada Dry Club Soda
Two 750-milliliter bottles of vodka
24 ounces orange juice
1 quart fruit sherbet
MAKE IT: Mix ingredients in a large punch bowl, and serve individually over ice in short cocktail glasses. Serves 25-30 people.
Article continues below advertisement
DRINK: Absolut Berri Holiday
WHY WE LOVE IT: Celeb stylist Robert Verdi helped kick-off the launch of Absolut Berri this year and this cocktail isn't just stylish– it's tasty!
INGREDIENTS:
2 parts ABSOLUT Berri Acai
3/4 part simple syrup
1 part fresh lemon juice
MAKE IT: Shake and strain into rocks glass filled with ice. Garnish with blueberries and fresh mint.
DRINK: Pom & Ginger
WHY WE LOVE IT: 7UP reintroduced seasonal favorite Pomegranate 7UP Antioxidant for the holidays and this bubbly drink will be a guaranteed hit at the parties.
INGREDIENTS:
1 ounce Rose's Cocktail Infusions Pomegranate Twist
1.5 ounces vodka or whisky
Canada Dry Ginger Ale
Pomegranate 7UP Antioxidant
MAKE IT: Fill a tall glass ¾ full of ice. Pour ingredients over ice and fill the glass with equal parts Canada Dry Ginger Ale and Pomegranate 7UP Antioxidant.