NEWS
Get a Glimpse of New 'Eclipse' Poster!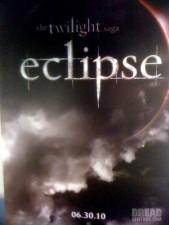 We're sure most Twilight fans out there are focused on the upcoming premiere of New Moon — but there's already promotional buzz building for the third movie in the saga, Eclipse, which just wrapped filming in Vancouver. This promo poster was spotted at the American Film Market conference in L.A. this week and originally posted by Dread Central.
Can you handle the wait? We know we can't!
Article continues below advertisement