NEWS
Get the Look: Hailee Steinfeld's Fresh-Faced SAG Awards Makeup!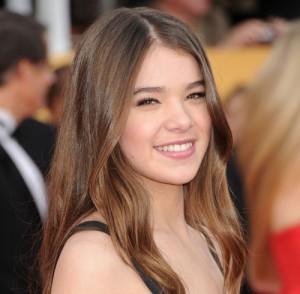 Anastasia Beverly Hill's celebrity makeup artist Stephen Sollitto created a fresh yet very age appropriate look for Hailee Steinfeld! The Oscar nominee was a breath of fresh air on the carpet, rocking a fun, striped Prada dress!
For the SAGs. Hailee chose a beautiful Prada orange, magenta and black gown so Sollitto wanted the makeup to be complimentary to her dress as well as age appropriate.
STEPS TO ACHIEVE HAILEE'S SHOW STOPPING EYES & LASHES: For the base of the lid, Sollitto used the deep purple shade from the ILLUMIN8 with YOUTHFUL SYNERGY™ COMPLEX EYE SHADOW PALETTE #4, blending on the eyelid as well as from the crease to the brow as a highlight. Sollitto explains, "This palette is phenomenal, the colors are great and so many to choose from."
Article continues below advertisement
• Then she blended the soft pink accent shade 4 from ILLUMIN8 with YOUTHFUL SYNERGY™ COMPLEX EYE SHADOW PALETTE #1 on the crease as well as blending up and outward all the way to the eyebrow on the outer edges.
• Treat your eyelashes as you do your hair. You want to round-brush Lash Lifting Mascara into the root of your upper and lower lashes for definition.
STEPS TO ACHIEVE HAILEE'S FIERCE BROWS: To define brows begin with sketching in Brow Wiz (Hailee used Medium Ash) over brows using light upward strokes, filling in brows completely, as if you were drawing little
hairs.
• Then use the wand brush on the other end of Brow Wiz to blend the brow color through. This will soften the product and create a natural effect. He also used the Brow Definer to precisely fill and define.
• To highlight the brow bone apply Brow Duality (Hailee used Camille/ Sand) highlighter pencil on the brow bone starting above the iris to the end of the brow and blend using the fingertip.
• To ensure longevity brush Clear Brow Gel in short upward.
Article continues below advertisement
STEPS TO ACHIEVE HAILEE'S GORGEOUS LIPS & CHEEKS: Using the amazing wand, swipe HydraFull Gloss in Barely, across the lips. Using your ring finger gently tap the crème cheek color from the Highlighting Crème Duo (Hailee used St Aspen) to apples of cheeks, blending to hairline.
• For a radiant cheekbones, apply a small amount of the liquid highlighter along the cheekbones and blend on to
your shoulders too!
FEATURED PRODUCT : ANASTASIA BEVERLY HILLS PRODUCT REFERENCE SNAP SHOT BROW WIZ, $20.00.
• Easily mimic brow hairs with this skinny brow pencil. Available in 3 shades in Sephora, Nordstrom, Ulta, HSN.com & Anastasia.net.