NEWS
Get Ready For Jade Goody: The Musical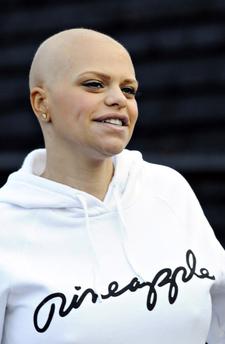 Some in Britain were accused of not treating Jade Goody's death with the gravity it deserved.
We can't think why, especially when we hear that Jade Goody: The Musical is in the works.
A friend of the reality star, who passed away on March 22, has told Britain's ITN On news service that the show should be open within four months -- and that her friends and family are already preparing to cast someone to play the role of Jade.
Article continues below advertisement
"Various projects we've got in the pipeline is a musical we've got coming out in about four months time and its going to be the story of her life," said her close pal Danny Hayward at the launch of the final part of Jade's autobiography.
"We're going to be on the search for who is going to play Jade," he explained.
"Hopefully we'll have a panel of not only creative experts but people that were close to Jade to be able to pick somebody that has to be able to dance to sing, because Jade could sing, she had a fabulous voice.
"And to act obviously, to play the part of Jade, and to have that kind of extra special kind of sparkle that she had."
The star's death from cancer led to an outpouring of emotion in the media and from the public in Britain, where she had become a major television personality after appearing on Big Brother, and Celebrity Big Brother.
CLICK the pics for OK!'s Jade Goody gallery!
AND click below for OK!'s exclusive pics from Jade's Wedding!