NEWS
Get in Shape, the "Team Jacob" Way!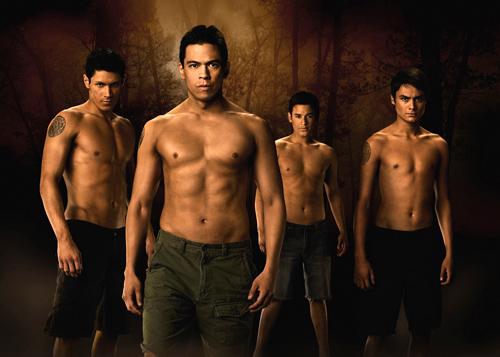 When the Twilight sequel New Moon hits screens this fall, fans can expect more skin: the five ripped torsos of the La Push werewolf pack.
And pack leader Chaske Spencer, who returns to the role of Sam Uley as Eclipse films in Vancouver, tells OK! how the guys — including Taylor Lautner, who gained 30 lbs. to play Jacob Black — stay in supernatural shape.
"Between takes we'll do push ups and they keep dumbbells on set. We're constantly working out," said the Oklahoma native at the Staples 'Do Something 101' school supply drive.
Article continues below advertisement
"The key is muscle confusion — using the same muscles but with different routines. I've been eating six meals a day: fish, chicken, vegetables and protein shakes." Still Chaske admits, "It'll be nice to be a couch potato again."
When we spoke to Chaske, he had spent the morning with dozens of other volunteers — including singers Ciara and Leah Renee — stuffing backpacks full of school supplies so that they could be distributed to disadvantaged kids.
He explained why it is a cause close to his heart.
"I'm originally from Montana and Idaho and a lot of people there live on Native American reservations, so there is a lot of poverty.
"I understand the importance of when someone can't afford something. I remember my dad, who also coached football, would buy some of his players football shoes when they couldn't afford it," said Chaske.
"He wouldn't say anything, he wouldn't make it known, but he would buy them football shoes and they would have them in their locker. So I learned that from my father, to give back."
Who says that werewolves are mean?