NEWS
Get Speidi Out of Here!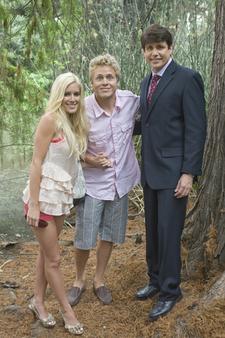 The official cast list for NBC's upcoming reality show, I'm a Celebrity... Get Me Out of Here! has been announced, and it's a fun one: Reality show vets Heidi Montag and Spencer Pratt will be joined by Janice Dickinson, Sanjaya Malakar, Stephen Baldwin, NBA great John Salley and wrestler Torrie Wilson.
As for the oddly coiffed former Illinois gov, Rod Blagojevich, he wants to be on the show but a judge says he can't travel to Costa Rica because of the charges that he corrupted the process of picking Pres. Barack Obama's replacement for Illinois senator.
Article continues below advertisement
Nevertheless, Rod showed up at the press conference to support the show, telling reporters, "I'm looking for a new line of work, a way to make a living. I hope I can participate in some way."
"I'm looking forward to my day in court, clearing my name," he added, saying he saw the show as "a way for me to be a modern-day Teddy Roosevelt, who went to South America," however, "the judge made his decision."
Rod's still going to tell his friends and neighbors to watch, saying he'd put his money on Janice to win.
The celebs will be dropped into the middle of the jungle in the show, which premieres on June 1. Former supermodel Janice is confident she's got the skills to survive already, noting that "life is a jungle!"
No word yet on whether Heidi will be allowed to bring a supply of lip gloss to last throughout the trip.