NEWS
Get Your Hands on Britney, Ellen's iPods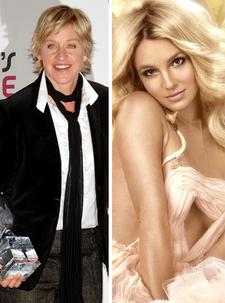 Have you ever wondered what music Britney Spears listens to, or who Ellen DeGeneres's favorite bands are?
Now's your chance to own playlists created by your favorite artists!
On Monday, Tonic's Celebrity iPod Auction to benefit Music Rising put autographed ipods belonging to both Britney and Ellen up for auction. Fans can place bids over the next 10 days with the hope of winning and each iPod is loaded with both Brit and Ellen's favorite songs.
Article continues below advertisement
Other top celebrity iPod auctions include Gwen Stefani, Mariah Carey, Pete Wentz and Faith Hill. These auctions have only three days left.
To place a bid fans can go to www.tonic.com/musicrising