NEWS
Giada De Laurentiis Readies Lasagna, Chocolate for Royal Couple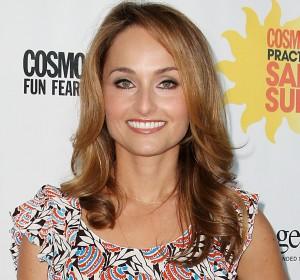 Giada De Laurentiis is positively glowing about cheffing for Prince William and Catherine, the Duke and Duchess of Cambridge, during Cosmo's Practice Safe Sun Awards held today at the Hearst Building in NYC.
The Food Network star, 39, will serve the royal couple and 3,500 other guests July 9 during a charity event at Santa Barbara Polo and Racquet Club in California.
"I can't give you the whole menu," she tells me. "There's a lot of preparation going on, and a lot of rehearsaling going on, and actually, I'm still slightly tweaking the menu, believe it or not, this late in the game."
Article continues below advertisement
What's one thing she'll serve?
"There will be chocolate!"
Italian fare will also be on the menu.
"I'm trying to figure out lasagna shapes and maybe little individual lasagnas for them, but still keeping it light and fresh."
To prepare, Giada has been traveling to Santa Barbara to meet with the team, and next week, she'll camp out and rehearse the cooking to make sure the cuisine turns out just right.
"It's really exciting," she says. "I'm hoping to have five minutes to sit down or at least see if they're eating my food and enjoying it, but other than that, I'll probably be running around a lot."
When it comes to attire, Giada plans to pay tribute to her guests' native land.
"I'm thinking about going British, and doing a little Victoria Beckham. I'm looking at hats and seeing what fits and what looks good."
Although she'll be on her feet all day, Giada won't opt for comfy footwear like flats.
"There will be pumps. I'm going to figure out how, one way or another. I can't be the shortest person in the room!"
For Giada, seeing Kate in person will be a highlight after she tuned into their lavish wedding earlier this year.
"I have a three-year-old girl, and the two of us watched it in bed together, very early in the morning," she says. "It's a princess story. My daughter's 3 – I read her princess stories all the time, and this is a princess story come true in real life. You can't help but share it."