NEWS
Gifting Miley Cyrus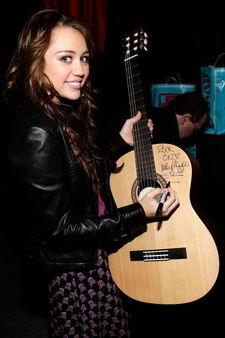 Miley Cyrus sweeps into the Izod Fragrance Artist Gift Lounge backstage at Z100's Zootopia wearing a huge smile on her face, a Topshop dress and a jacket so expensive she would never buy it herself.
Shocking? Nah. The Hannah Montana star, 15, is a penny-pincher. "She had a Blackberry but she lost it, and she's too cheap to get another one," I hear. Luckily, she receives a Blackberry Pearl in her stash of goodies.
Article continues below advertisement
Miley curls up on the couch to chat with Z100 before taking inventory of her new accessories. She raids the stainless steel jewelry line from Black and Blue taking one of everything. She's eager to schedule her new Roomba to vacuum her room while she's away on tour. And, during a round of The Box Girls Box of Questions Conversation Starter Games, she says, "I'd sit in my boxer shorts and play video games all day if I was a boy."
Well, if she was a boy she might be just like half-brother Trace Cyrus, who is in the electro-pop band Metro Station. Miley joins him onstage during the pre-show, and the crowd goes wild.
"She was chilling," he tells me. "She was sitting there watching it."
One thing Trace has that Miley doesn't is a body filled with tattoos. His favorite? "This one right here," he tells me, flexing his arm. It says 'This time here will never last.' It's lyrics to one of my dad's Billy Ray Cyrus songs."
Article continues below advertisement
Lunchtime! I grab a meal ticket and scope out the catering section, where I bump into New Kids On The Block. I'm enjoying my roast beef sandwich, French fries, potato salad and sugar cookie when the guys roll through. "It's too crowded in here," Donnie Wahlberg laments. "Let's eat in the dressing room." (Bummer!)
The guys roll into the gift lounge. The highlight is the Roomba. Danny Wood, who is a single dad, is excited to get housework help from the gadget. And Jordan Knight says the device will free up the time his wife would spend vacuuming. Joey McIntyre walks up and announces "We are in the future."
Here's . I'll never forget the first thing he said to me years ago when we met in a club: "Are you married?" And then, he had the hit single I Don't Want To Be. I have the worst luck with this. Anyone whose advances I've dismissed always hits the big time. (Hello, .) Gavin's still got it. "Hi gorgeous," he says. Hm, is he dating anyone now? "I'm too busy right now to fail at a relationship." I see…
Article continues below advertisement
Another fun guy is Simple Plan's . He's up there – he cracks me up, and his Quebecois accent makes me smile. I once interviewed Simple Plan on a bed at The Time Hotel in NYC. (Not my idea – theirs.) He remembers. What's his status? "Single and open for business," he tells me. I was also there when he asked Kelly Clarkson out a few years ago at a Z100 event. "Nothing ever happened with that. I thought I had an 'in' – I thought I was in, but it's OK. I've moved on. I'm stalking other people now like Megan Fox. She's so hot … she has an amazing talent at acting. She's absolutely gorgeous." (Ooh, he'll have to .)
Whoa! Love Song singer is getting lavished with praise by each member of Danity Kane. Sara is loving the adoration – she's on top of the world.
Does Sara ever get tired of performing her megahit?
"I have my moments of not being so excited about it, but overall it's so very fun," she tells me. "It's at the point now where people are knowing the words and singing along. That's very rewarding."
Danity Kane's admits she loves to buy handbags. "I'm disgusting about purses," she tells me. "There's a purple Prada bag that I really want right now. I just feel like a couple more shows and I'll feel like I deserve it."
Here come the Jonas Brothers! Shhh …
For more behind-the-scenes moments, check out Backstage at Z100's Zootopia.
Pick up the OK! on stands now for more coverage of the Izod Fragrance Artist Gift Lounge backstage at Z100's Zootopia. Angelina Jolie: Four Weeks To Go! is the cover line.