NEWS
Gina Carano Talks 'Haywire' on 'Conan' & Explains How Cagefighting Is Like Sex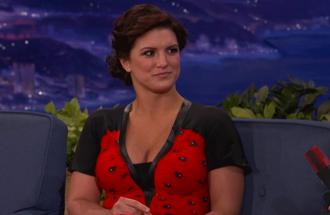 Haywire star Gina Carano may have no problem fighting men in her big-screen movie debut, but she admittedly had some nerves appearing on Conan last night. So how did Conan O'Brien help calm her nerves? He quickly changed the subject to sex!
OK! GALLERY: BLAKE LIVELY SHINES AT THE HAYWIRE SCREENING IN NYC
"You've said this... this is a quote of yours, you've likened cagefighting to sex. Yes, you did," Conan told Gina on his show. "I want to know why that's true in great detail."
Article continues below advertisement
After laughing, Gina explained, "Well, if you think about it it's a very real interaction between two human beings. You have an energy and I have an energy and it's an energy that nobody else is going to share."
"Did they tell you I was a perve?" Conan asked.
"I'm actually a huge fan of yours," Gina. "I've been watching you with my 40s forever."
OK! GALLERY: CHANNING TATUM & JENNA DEWAN STEP OUT FOR THE HAYWIRE PREMIERE IN L.A.
Conan played Gina a compliment as well on her fight scenes in Haywire.
"I have to tell you, the fight scenes... it's so real," Conan said. "You can tell that you're a real fighter. You're not an actor who has been trained to fight. You're someone who really fights."
Gina may be a real fighter, but she also trained for the film with an ex Mossad agent. And the only problem with being a girl who fights, is that her boyfriends always try to size her up and wrestle with her.
"They all do," she said. "I don't know what it's like to be a female and have a guy not size me up like, 'Can I take her or can I not take her?' "
Haywire is in theaters now! Will you go see it?