NEWS
Winning Hair! How To Get Gina Rodriguez And Robin Wright's Golden Globes Hair At Home!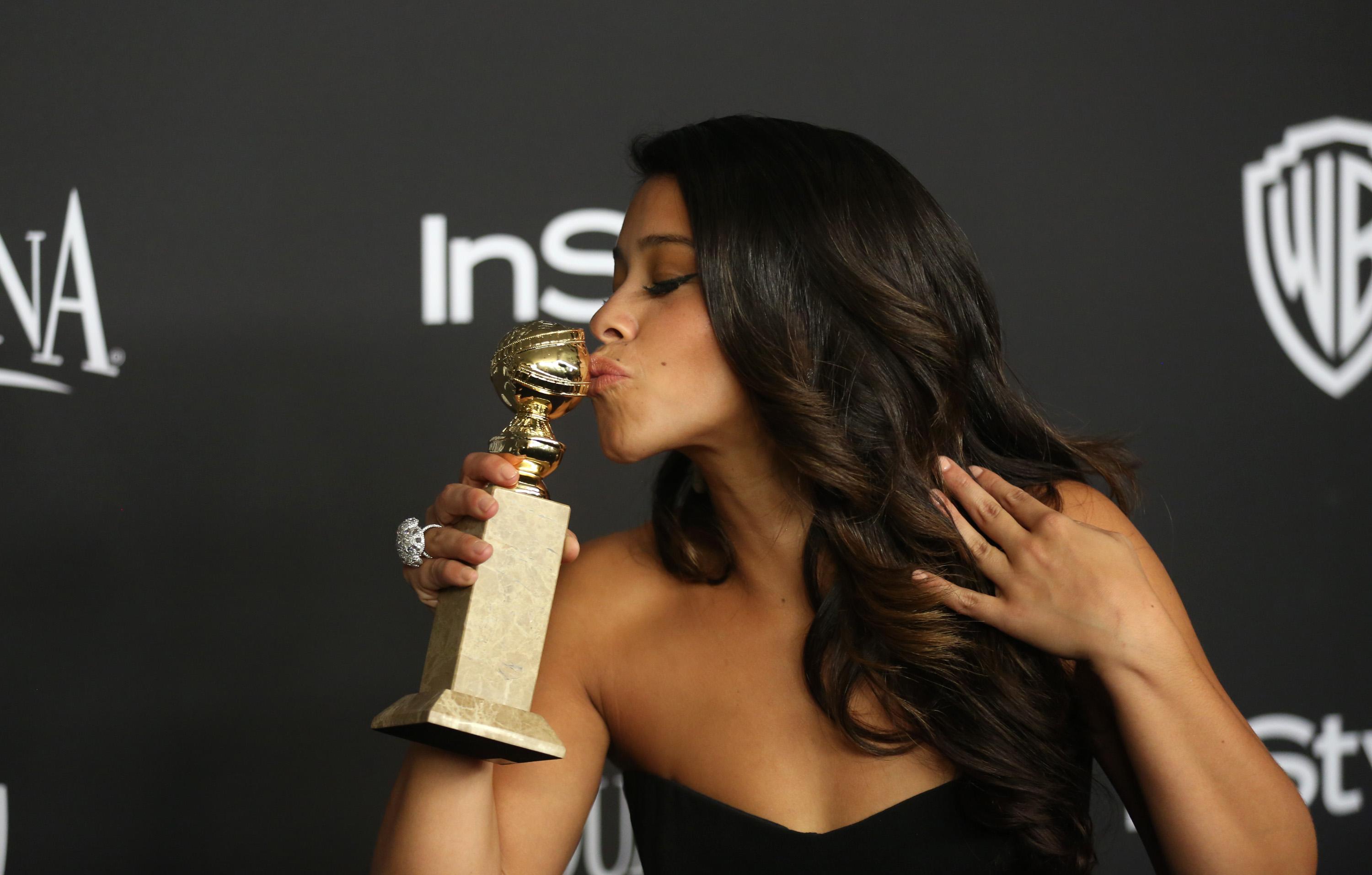 From sleek 'dos to bombshell waves, the leading ladies of the Golden Globes stunned on the red carpet at the Beverly Hilton.
And no more than Jane The Virgin winner Gina Rodriguez and House of Cards nominee Robin Wright, who turned heads – literally! -- with a little mane maintenance from celeb stylist Paul Norton.
OKMagazine.com spoke exclusively to Norton to get the at-home how-to.
PHOTOS: Golden Globes 2015 Red Carpet: See Photos Of All The Fashion!
Article continues below advertisement
OK!: What's the inspiration behind the Golden Globes looks for Robin and Gina?
PN: For Gina, I went "Old Hollywood Glamour" and for Robin I went "Classy Punk." Both were determined by the dresses!
OK!: Gina is young, fresh and a first-time nominee (and winner!), so how did her style have to look on her special night?
PN: It's so important that her style was just gorgeous. It needed to remain young and fresh and like she wasn't trying to hard, but still greatly appreciated the honor.
OK!: Robin has a sleek, short haircut, so how did you want to make it stand out on such a big awards night?
PN: I actually gave it a much more edgy cut this year, cutting the sides and back much shorter and texturizing the top to give it a much more edgy look. We started with a fresh cut, severely shorting up the sides and back to give the style a much more edgy punk rock feel which was my inspiration. When I got to the top section I point cut the hair keep the hair very jagged and piecey going shorter to longer as I worked my way to the front, leaving the front piece much longer for a more dramatic effect.
Article continues below advertisement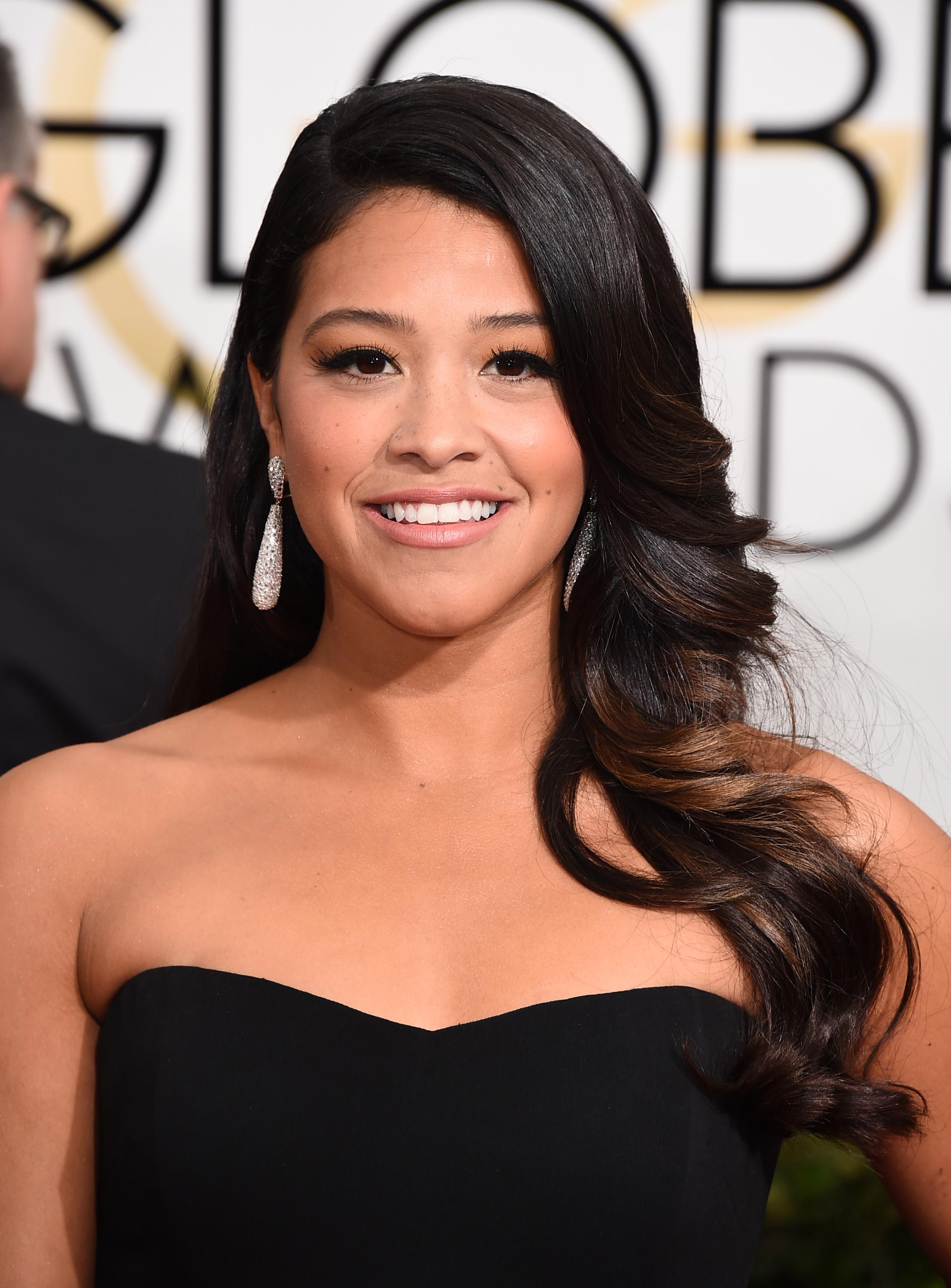 OK!: Step-by-step, how can fans get these looks for their own special night on the town?
PN: Step 1: I began Gina's look on damp hair that had been freshly washed with Joico Color Balance Blue shampoo and Conditioner to remove any brassiness from existing high lights we are growing out.
Step 2: Knowing I intended on setting Gina's hair to create a wave that was soft yet would hold all night, I first added Joico Power Whip from roots to ends and blew out the hair with a medium size boar bristle round brush until fully dry.
Step 3: Once the hair was dry I took three large horizontal sections beginning at the bottom and sprayed Joico IronClad Thermal Protectant Spray gently throughout each section to protect the hair from the heat I was about to add to the hair.
Article continues below advertisement
PHOTOS: Sexy Slits, Crazy Cutouts & Plunging Necklines: Celebs Who Showed Off Skin At The Golden Globes!
Step 4: I then took sections beginning in the back in the bottom of the head and with a 1 1/4-inch curling iron I curled 2-inch sections under and using larger agitator hair clips I secured each section in order to cool and create the perfect wave. As I made my way to the top section I gave her a deep side part on her right side and curled all of the hair under and away from the face and also secured those curls with large alligator hair pins.
Step 5: Once the set was completed I generously sprayed several coats of Joico JoiMist Medium Styling and Finishing Spray over the entire head in order for it to help set the wave while the hair cooled. Allowing the set to cool insures that they reform as actual curls. I then stepped away for about 15 minutes for proper cooling time.
Step 6: Once I felt as though my set had perfectly cooled and reformed I began removing the clips and releasing my curls from the bottom to the top. After every clip was removed I asked Gina to tilt her head back and rest her neck on the back of the chair allowing me the chance to vigorously run my fingers though her hair in a combing fashion breaking up each curl.
Article continues below advertisement
Step 7:
Next I put a dime size amount of Joico Crème Wax Texture and Shine in the palm of my hand and rubbed it around then applied it to Gina's hair from root to tip, finger combing it all back away from the face and began to sort of place the hair exactly how I wanted it to lay paying close attention to her face shape in order to make sure each wave rested at the most flattering point.
PHOTOS: Sexy In Silver! See Photos Of The Ladies In Sequins At The Golden Globes
Step 8: Once I began to like what I saw I then secured the waves with large metal hair pins in order for it to set in that form a little while longer allowing me time to brush back the right side with my baby Mason Pearson and secure it with several black bobby pins.
Step 9: Lastly, I sealed the entire head with Joico Flip Turn Volumizing Finishing Spray in order to really insure the voluminous waves would hold all night and also a spray of Joico K-PAK Color Therapy Dry Oil Spray for ample shine! Once the dress was on we all collectively new that this old Hollywood look was certainly the way to go!
Article continues below advertisement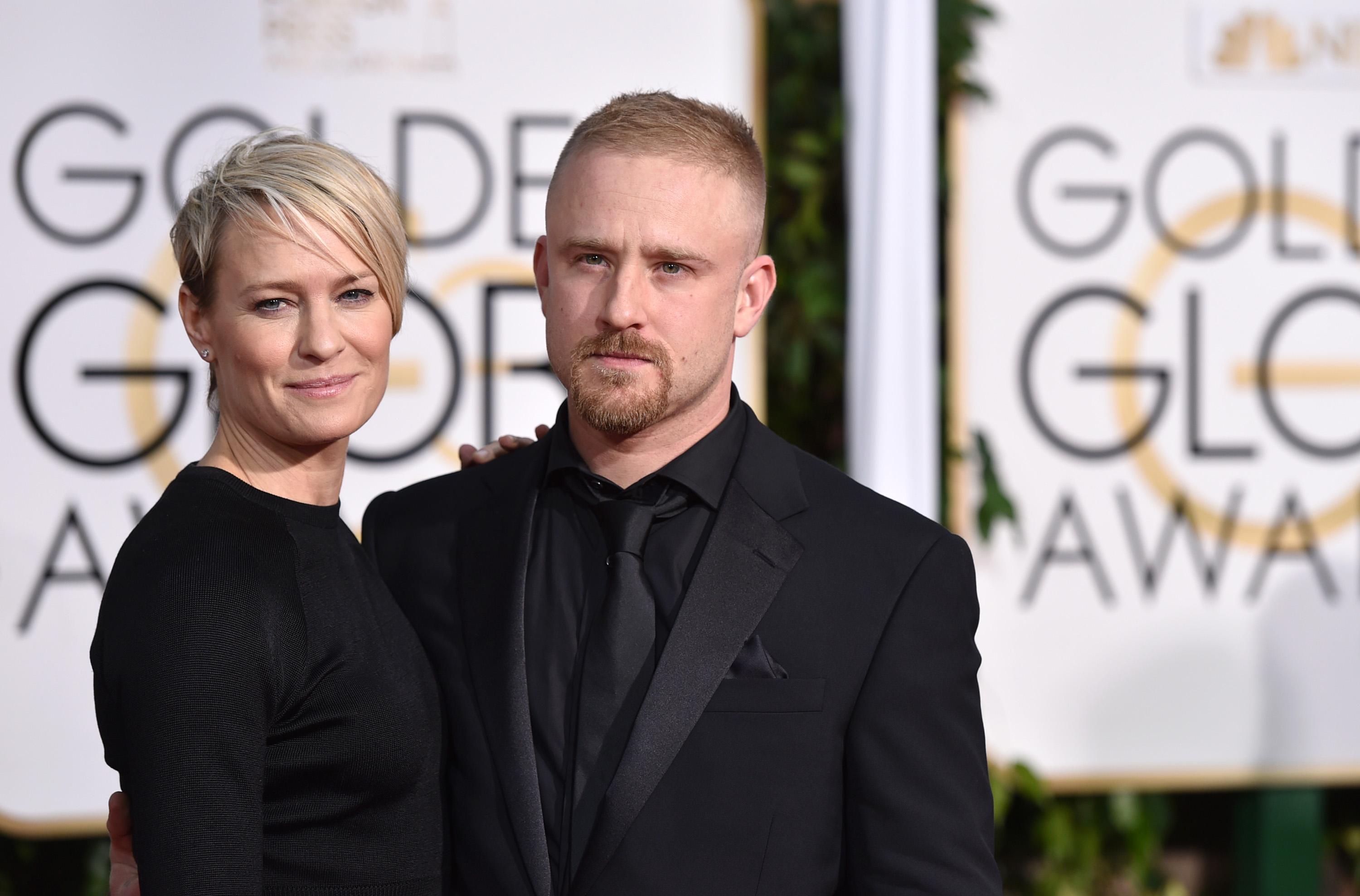 OK!: And you prepped Robin in two easy steps.
PN: Step 1: First, I prepped her hair with Joico's Smooth Cure Thermal Protectant Spray throughout her hair and at the root I followed by adding Joico's Body Luxe Volumizing Elixir to ensure the hair does not lay flat.
Step 2: I blow dried the hair using a round brush to smooth her ends and a little flexibility.
OK!: What's one thing about their hair we can't tell just by looking at it?
PN: Gina's hair is naturally curly and sort of frizzy, and Robins hair is on on the finer side.
OK!: Was everyone multi-tasking during all the styling fun? Listening to music? Or even drinking champagne?
PN: For Gina, there was so much going on, laughter, music and champagne. And with Robin, it was much more casual and we actually all ate lunch.
OK!: The Golden Globes is supposed to be the funnest award show of the season. Were the nerves getting to them?
PN: This year both girls were actually very chill and were really just very appreciative for even the honor of being recognized.