NEWS
Gisele Bündchen Passes Her Pilot Test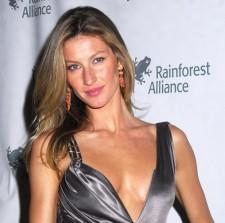 Gisele Bündchen's new baby may be born to fly! The 29-year-old supermodel and mom-to-be has recently passed her written test to acquire a helicopter license, the Boston Herald reports.
Gisele has been taking helicopter lessons at Marshfield Airport in Boston for about two months and has recently passed the written exam.
Now the Brazilian bombshell now has two years to pass her practical flying Test. She will need to complete 20 hours of flight lessons with an instructor and 10 hours of solo flying before she can become fully licensed.
Article continues below advertisement
Reports say the mom-to-be wants to shorten her commute between her home in Boston and work in NYC.
"She is one of the best pilots I've seen in a long time," Shoreline Aviation president Keith Douglass said.
Gisele will welcome her first child with husband Tom Brady next month.
Hope she puts a sign up during her lessons that says "baby on board!"