NEWS
Gisele Bündchen Wants Everyone to "Pray For" Tom Brady & the Patriots to Win the Super Bowl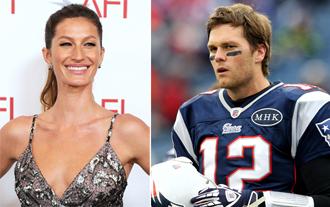 Just when we thought Gisele Bündchen was keeping her love for husband Tom Brady on the down low, the Victoria's Secret stunner sends out a super-sappy email to friends and family, asking them to send "Tommy" lots of spiritual energy, so he and the New Enagland Patriots can defeat Eli Manning and the New York Giants at the Super Bowl this Sunday.
OK! GALLERY: TOM BRADY & GISELE BUNDCHEN STILL HAVE A SPARK IN BRAZIL
Article continues below advertisement
The All-Pro quarterback is dealing with a lot of pressure these days, and his Brazilian beauty wants to make sure he has all the support he can get. How utterly adorable.
The New York Post obtained the email, which reads:
"My sweet friends and family, This sunday will be a really important day in my husband's life. He and his team worked so hard to get to this point and now they need us more than ever to send them positive energy so they can fulfill their dream of winning this super bowl." Gagging, yet?
"So I kindly ask all of you to join me on this positive chain and pray for him, so he can feel confident, healthy and strong. Envision him happy and fulfilled experiencing with his team a victory this sunday."
"Thank you for your love and support. Love, G"
OK! VIDEO: WATCH TOM BRADY'S SHAKY DANCE MOVES AT CARNIVAL!
Granted, Gisele's letter is awfully sweet and enouraging, but she just proves that Tom is completely whipped off the football field.
Let us all "envision Tom happy and fulfilled," unless of course you're a Giants fan; then you're allowed to envision him unhappy and unfulfilled.