NEWS
Gisele: Women Should Breastfeed Babies for Six Months By Law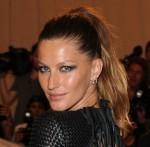 First she boasted of a pain-free labor, now Gisele Bundchen wants to pass a worldwide law forcing new moms to breastfeed their babies for the first six months of their lives.
"Some people here think they don't have to breastfeed, and I think 'Are you going to give chemical food to your child when they are so little?' I think there should be a worldwide law, in my opinion, that mothers should breastfeed their babies for six months.
Article continues below advertisement
The 30-year-old let fire in the UK edition of Harper's Bazaar via The Press Association, also stating how feeding her newborn was the secret to getting her figure back. "I think breastfeeding really helped."
Every aspect of motherhood seems to come naturally to the Brazilian supermodel, who meditated throughout her eight-hour labor then got up to make pancakes the day after giving birth to Benjamin Rein.
OK! NEWS: TOM BRADY BOASTS ABOUT BABY BENJAMIN
Gisele prepped for birth with daily meditation. "It prepared me mentally and physically. It's called 'labour' not 'holiday' for a reason, and I knew that.
"You want to go into the most intense physical experience of your life unprepared? That doesn't make any sense to me. Then I was ready and I thought okay, let's get to work'. I wasn't expecting someone else to get the baby out of me."