NEWS
Giuliana and Bill Rancic Talk Celebrating 2012 to OK!: "I'm Really Going To Appreciate It"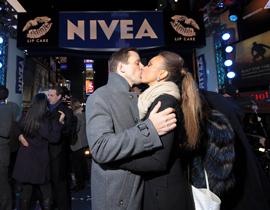 Giuliana and Bill Rancic certainly had a difficult 2011 with a lot of trials and tribulations. The couple spoke exclusively to OK!, before hosting their big New Year's Eve at the Nivea Kiss Stage, about why they're looking forward to the upcoming year more than ever.
Giuliana explained to OK! why Bill's kiss at midnight had more meaning than ever before. "It's the most important kiss probably of our lifetime!" she said. "We've had such a crazy year, highs and lows, but a lot of lows for sure. But this New Year's I'm really going to appreciate it. A lot of people go into it like, 'Oh, what am I going to do this New Year's? What friend is having a party? Or, 'alright, let's watch the ball drop.' But for us, it's really important because you know it's saying goodbye to 2011 — which was really hard for us — and starting this year on the right foot."
Article continues below advertisement
Bill also explained to OK! why hosting the Nivea Kiss Stage was so important to the couple. "This was really our finish line. When we knew we had the double mastectomy surgery coming up, we said our goal is to be on that Nivea Kiss Stage for New Year's. We said we're going to bring in the new year in style with a million and half people in New York. We're not looking back, we're going to go into 2012 full steam ahead, ready to tackle the world, have fun, just enjoy life and live in the present."
And they did just that! The couple celebrated in NYC with Giuliana telling OK! that night, "I did it. I made the goal."