NEWS
Giuliana Rancic Defies the Reality Show Curse and Preps for Babies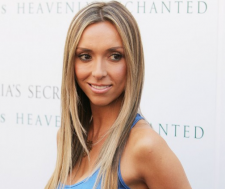 After testing out the new Victoria's Secret Dream Angels Heavenly Enchanted fragrance at the Grove earlier this week, Giuliana Rancic took time out to discuss just how she plans on ensuring that her marriage won't be affected by that ever-so-common reality show curse.
In the wake of her new hit Style Network show, Giuliana and Bill, which is getting picked up for its second season, the freshly scented celebrity newscaster reveals the secret to her long distance love and focuses on her baby dilemma.
Article continues below advertisement
Although many a couple in the spotlight has been torn apart while filming a reality show, Giuliana has no fear about her husband Bill's commitment as she explains to OK!, "If you're a secure couple, then reality shows can actually bring you together. And first of all, we live in separate cities so it forces us to shoot together and then we get to see each other."
And best of all, watching clips of Giuliana and Bill highlights some of the annoying qualities in need of change for the adorable couple, who are set to celebrate their second wedding anniversary in September.
"We watch the show and we notice our mistakes. Like I'll notice that I will interrupt Bill all of the time and apologize or he'll notice his tone and that he was being a jerk. It's like therapy," Giuliana laughs.
Despite a few irritating habits, the happy pair are more in love than ever, even with Bill—the season one winner of The Apprentice—living in Chicago and Giuliana in Los Angeles.
"The secret to keeping the romance alive to me is living in different cities because then you never get sick of each other," says Giuliana. "He always stops at Whole Foods first and when I get out of the airport in Chicago there is always a cold bottle of Smart Water and snacks like Kashi granola bars and an apple. It's really cute. I should start doing that for him too."
Article continues below advertisement
The E! News host also gushed to OK! about the nearing possibility of babies, which the duo still hasn't quite ironed out just yet.
In the second season of the show Giuliana reveals that, "there's a lot of focus on babies and when we do have a child, we need to decide where the child is going to live: the suburbs or the city. I mean we don't even live in the same city so where's our baby going to live? We have to figure that out very soon!"