NEWS
Giuliana Rancic Doesn't Regret Waiting to Try Having Children Until Age 35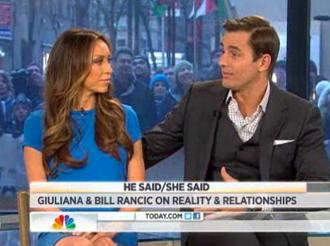 Giuliana Rancic and Bill Rancic joined Ann Curry on the Today show this morning for a special "He Said/She Said" segment where they weighed in on gender issues.
OK! NEWS: GIULIANA RETURNS TO WORK AFTER DOUBLE MASTECTOMY
A new study shows that delaying parenthood can have serious consequences for women and men. The topic hit close to home for Giuliana and Bill, who have undergone fertility treatments to try and get pregnant.
Article continues below advertisement
"I know a thing or two about this," Giuliana told Ann on Today. "We waited until I was 35 and Bill was 38 to try and have a baby.... Can I look back and regret the decisions I made in my 20s? Should I have frozen my eggs? ... I look back and think, 'No.' At the time I did what was right for me. In my 20s, I was busy chasing my career, not chasing guys."
OK! NEWS: SEE GIULIANA RANCIC'S EMOTIONAL BREAST CANCER ANNOUNCEMENT ON TODAY
What's Bill's opinion?
"Where men and women differ on this is women typically wait for Mr. Right ... where men wait for the right time," he explained. "Men wanna be financially stable before they bring a woman (home) and start a family."
Giuliana recently underwent a double mastectomy after being diagnosed with breast cancer and has had to put her dreams of having a baby on hold.
"The point is, OK, it's a small risk that something's going to happen if you wait later in life, but it depends — are you willing to take that risk?" Giuliana asked. "And I think if you talk to people in their 20s, a lot of them are."