NEWS
Giuliana Rancic Says Italy Is "The First Place We're Going to Look" for Adopting a Baby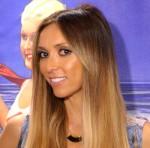 Giuliana Rancic has been pretty open about her struggle to get pregnant. With her Style Network show, Giuliana & Bill back on TV, she's opened up again about considering adoption.
OK! NEWS: GIULIANA RANCIC SAYS SHE HOPES THIRD TIME OF IVF WILL BE "A CHARM"
OK! spoke exclusively to Giuliana at the opening of the Nivea 100 Year House in NYC this week, where she said that while adoption is definitely something she and husband Bill Rancic are considering, it's not going to happen right away.
Article continues below advertisement
"We're definitely going to keep trying ourselves for awhile," she explained. "We've always said we're open to surrogacy, open to adoption."
"We were in Italy recently, and I just have such a strong connection to Italy. I told Bill, wouldn't it be great to do a little research and see about adopting a child from Italy when we're ready, if we ever get to that point, and he loved the idea," Giuliana revealed. "If we ever get to that point, it's definitely the first place we're going to look because I'm from Naples. I just have a real connection to to the country."