NEWS
Giuliana Rancic Shares Her Fertility Struggles on 'The View'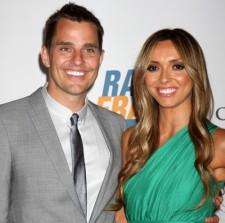 Giuliana Rancic announced on The View today that she is starting IVF treatment next week in an attempt to have a baby with husband Bill Rancic. "We've already done IUI; we've done quite a few things and we start IVF next week," Giuliana told the ladies of The View. "We're on it."
OK! NEWS: BARBARA WALTERS SAYS GOODBYE TO OSCAR SPECIAL AFTER THIS YEAR
The E! hostess and former Apprentice winner are documenting their struggle to conceive on their Style network reality show, Giuliana and Bill. On The View, they said they've been trying to have a baby for a year with no luck.
Article continues below advertisement
"We are infertile," she said. A doctor discovered Giuliana's uterus was way off to one side. She got a colonic, which rectified that problem. The TV star, 35, said of hubby Bill, "He got tested; his sperm was great. So there's no reason except it's all my age."
Giuliana, who married Bill 2 ½ years ago, said, "We always knew we wanted kids but our careers were really busy and we figured we can hold off for awhile." Now she's 35, "And we're realizing it's not as easy as we thought it was going to be."
OK! NEWS: THE LADIES OF THE VIEW OPEN UP, COVER IT ALL
And she admitted on The View that her doctor told her she needed to gain weight.
"My diagnosis was I wasn't ovulating consistently and so my doctor recommended that I gain weight in order to start ovulating consistently," she said. "He said five to 10 pounds, which I know isn't a big deal but I had to bite that bullet because I work out every day of my life. I love feeling good, waking up, working out."
"I finally did gain five pounds," she said, and Bill said he's working on her to gain a little more.
Giuliana wants to look thin because she's on TV every day — but The View hostess Whoopi Goldberg chided her: "You want to have a baby, you need to prepare your body for that other person who's going to be there. There's no 'buts.'"