NEWS
Giuliana Rancic's Charmed Life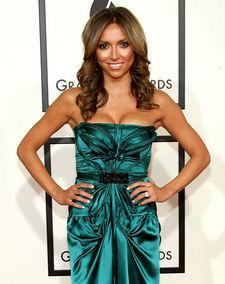 Giuliana Rancic certainly leads a charmed life as the wife of season one Apprentice winner Bill Rancic and managing editor of E! News.
The couple will celebrate one year of wedded bliss in September.
"We're best friends," the 32-year-old beauty tells me. "Bottom line, he's my husband second and my best friend first. I married my best friend. I think that's actually the secret to a good marriage. Marry your best friend, you're going to want to hang out with them all the time. We like the same food, we like the same restaurants, we have the same workout regimen."
Article continues below advertisement
That workout regimen includes lifting weights and running six miles a day, five days a week beginning at 4:30 a.m.
"There's no magic pill. You've just gotta commit to diet and exercise."
By 6:00 a.m, Giuliana begins her day at the E! office located in L.A.
"It's funny, in the morning at E! News, we're all women and we determine the entire show. The line producer, the executive editor and the executive producer are my support group. We're all women. We're all on the same page. It's good. I've never in my whole career had any sort of competition with women. I've never felt women holding me down ever."
When it's quitting time, Giuliana relishes her drive time.
"I love driving in a car. I don't know what it is. It's my moment to be alone."
When Giuliana returns home after a long day, she flips on the news. "I'm a news junkie. My husband and I just watch CNN, Fox and MSNBC. We love watching news and following the campaign."
Bill, 37, is the ideal husband.
"He absolutely supports me," Giuliana tells me. "He's just the best. Any help I need, anything to do with work, he's right there always encouraging me and loves that I work and that I have this job that I love. As long as I love the job, he'll always support me."
He appreciates her sense of humor and drive.
"I came to America when I was a little girl, and I didn't speak a lick of English. I didn't have family in the business. I'd watch TV, and I said 'I want to do that job.' And so I went after it. I didn't look like the typical anchorwoman, so I was made fun of all the time. I like to encourage girls to go after their dreams."