NEWS
'Glee'-Cap — Britney Spears Rocks McKinley High; Pop Princess Tweets Excitement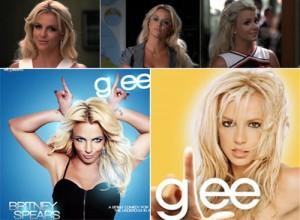 Last night's "Britney/Brittany" episode of Glee did not disappoint, with three fabulous Britney Spears cameos and the only downfall — we wanted MORE! Members of the McKinley High's glee club and Cheerio cheerleading squad, Brittany S. Pearce (Heather Morris) and Santana Lopez (Naya Rivera) had induced Britney dream sequences while under anesthesia. The duo delivered a fabulous "Me Against the Music" performance as Brit Brit and Madonna!
Article continues below advertisement
Heather's character Brittany channeled her inner Britney throughout the episode, complete with famous Brit costumes — "Slave 4 u" 2001 VMA performance style with python, her infamous sequin-encrusted bodysuit from "Toxic" and her skin-tight red catsuit of from the "Oops! ... I Did It Again" video.
The pop princess herself emerged throughout the episode's hallucinogenic fantasies — she appeared as Madonna's character at the end of "Me Against the Music," a high-school teacher in "... Baby One More Time" and a fellow Cheerio — and the mom of two looked fabulous in the cheerleading costume. She continued to inspire the New Direction glee club!
Rachel Berry (Lea Michele) did an amazing rendition of Brit's naughty schoolgirl look for "...Baby One More Time"
Brit's classic first hit is only a few weeks away from celebrating its 12th anniversary — it was released in the U.S. in late October 1998!
Brit was so proud of her guest star role and the entire cast, that she used her Twitter as a live blog while watching the episode!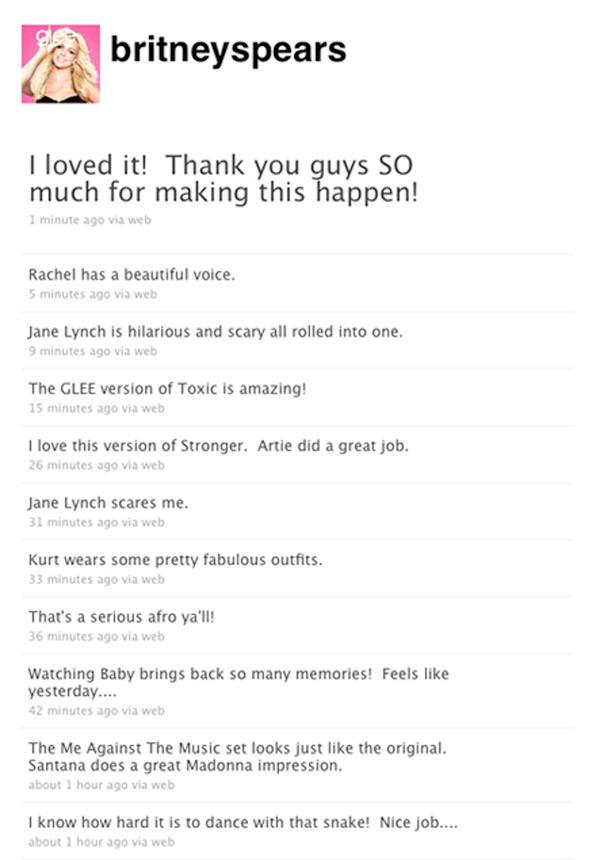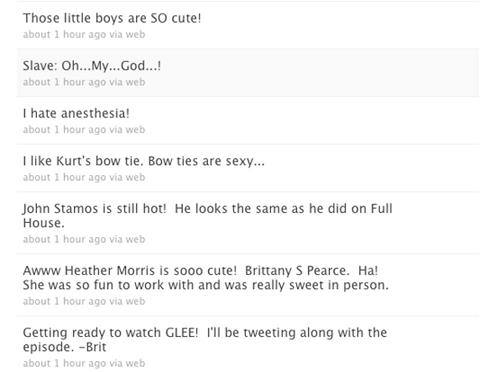 Just in case you missed it, or want to re-live it, catch the fabulous Brit cameos and performances below!
Brit Cameo 1
Brit Cameo 2
Brit Cameo 3
Rachel Berry (Lea) — "...Baby One More Time"
Brittany and Santana (Heather Morris and Naya Rivera) take on Britney Spears and Madonna in "Me Against the Music."