NEWS
'Glee' Cap: The Justin Bieber Experience Woos William McKinley Ladies!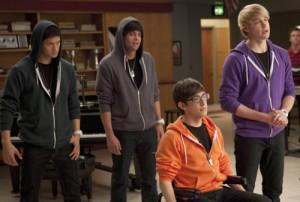 Bieber Fever has finally infiltrated the halls of William McKinely High School. Mega pop hits from the beloved 16-year-old singing sensation Justin Bieber were featured on Glee's Comeback episode last night. Sam (Chord Overstreet) channeled the young love song guru to woo back Quinn (Dianna Agron), and after the Glee girls swoon over his "Baby" performance the male New Directions members want in on the JB action!
Article continues below advertisement
In the midst of her Cheerios downfall, Coach Sue Sylvester (Jane Lynch) is wreaking havoc in the halls and is convinced to join the glee club as a cathartic measure in an attempt to break out of her destructive path.
Sam seems to have trumped Finn (Cory Monteith) for now in the race for Quinn's heart, still unaware that Quinn and Finn's make-out mono incident was real — he believes she saved his life by sucking a gum ball out of his mouth that he was choking on.
He combs his hair a la Bieber, sports a purple zip-up beauty and who wouldn't be smitten after being serenaded with "Baby"?
The Biebs himself tuned into last night's episode, and while he was happy to hear his songs on the hit Fox show, he had some words of wisdom for Chord on Twitter.
Article continues below advertisement
"Who's ready for tonights episode? It's so fun. I sing two @Justinbieber songs" Chord Overstreet Tweeted before the episode aired.
Let's hope one day JB takes to the Glee set to teach Chord some real moves!
Check out the performances from last night's Glee below!
"Baby" Justin Bieber — Chord does his best Bieber to win over Quinn's heart.
JB's "Somebody to Love"
It's Lauren's (Ashley Fink) time to shine and share her anthem "I Know What Boys Like" by The Waitresses. Puck (Mark Salling) plays back up for his crush.
Rachel (Lea Michele) and Mercedes (Amber Riley) battle out their talents in the aspiring Broadway anthem "Take Me or Leave Me" from Rent. We were waiting for this duet!
Rachel and Finn perform "Sing" by My Chemical Romance.