NEWS
'Glee' Cap: New Directions Gets a "Special Education"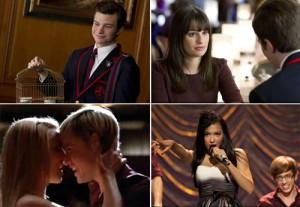 Alas! Sectionals have arrived for the eager members of New Directions, but unfortunately the Gleeks' mojo seems to be a bit off kilter right before the big competition. So how did they fare? And who exactly received a "Special Education" as the episode was titled?
A quick re-cap: Rachel (Lea Michele) is harboring a grudge against Finn (Cory Monteith) for hooking up with Santana (Naya Rivera). Artie (Kevin McHale) and Tina (Jenna Ushkowitz) are suspicious Britney (Heather Morris) and Mike Chang (Harry Shum Jr.) are secretly hooking up. Ms. Pillsbury (Jayma Mays) got hitched in Vegas to her hot dentist boyfriend Dr. Carl (John Stamos), while Mr. Schuester (Matthew Morrison) is trying desperately to hold everyone together and deal with his own internal grief. And Kurt does not get a solo after his first audition with the Dalton Academy Warblers! Plus, still no action between him and Blaine (Darren Criss).
Article continues below advertisement
But for all the turmoil at William McKinley there are also a couple of high notes (and no they are not coming from Kurt's vocal chords): First, the adorableness that is Quinn (Dianna Agron) and Sam (Chord Overstreet) trumps the trouble that has invaded Rachel and Finn's relationship — at the end of the episode Rachel reveals she was intimate with Puck to get back at Finn.
GLEE CAP: FINN PLUS KURT EQUALS FURT!
While Puck (Mark Salling) may have betrayed Finn for the second time (recall the whole Quinn three-way drama) he also had some redeeming moments this episode.
After being locked up in a port-a-potty for 24 hrs — in an attempt to fill his duties as "badassador" for Glee club, he recruited the newest New Directions member, AV girl Lauren Zizes (Ashley Fink), who rescued Puck from his potty prison and agrees to be the lucky 12th member of the club.
Article continues below advertisement
And the defining moment of the episode — a three-way tie launches New Directions to Regional along with the Warblers and geriatric group The Hipsters.
Relive some of last night's most memorable performances!
"Hey Soul Sister" — Dalton Warblers take on Train's smash hit at Sectionals.
Quinn and Sam lead New Directions in "Time of My Life" for Sectionals opener!
Tina and Mercedes (Amber Riley) lead New Directions in a cover of Florence and the Machine's Hit "Dog Days Are Over"
Behind-the-Scenes Look at "Special Education"