NEWS
'Glee'-Cap: Quinn Quits New Directions For New Punk Lifestyle; Sue & Mr. Schue at War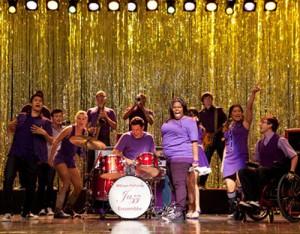 The Halls of William McKinley High are once again buzzing with students as the Season 3 premiere of Glee debuted last night. With a new year, comes fresh drama for New Directions. The glee club is in desperate need of new recruits, and Mr. Schuester (Matthew Morrison) puts a plan in action.
The Purple Piano Project — also the episode's title — is Mr. Schue's plan to recruit members by setting up purple pianos throughout the school for glee club members to perform with.
Article continues below advertisement
OK! EXCLUSIVE: MARK SALLING TELLS OK! PUCK WILL HAVE A NEW LOVE INTEREST ON GLEE SEASON THREE!
Unfortunately, their first attempt goes sour when they perform "We Got the Beat" in the cafeteria that then leads to a food fight.
Quinn (Dianna Agron) has transformed into a full out punk over the summer, sporting hot pink hair, a nose ring, and a tramp stamp of Ryan Seacrest's mug on her lower back. She has a new crowd and has vowed not to return to New Directions or The Cheerios.
Coach Sue (Jane Lynch) has branched out into politics and her smear campaign against the arts (glee club in particular) is in full effect, causing Mr. Schue to stage a counter offensive to save his job and his program.
In relationship news, Rachel (Lea Michele) and Finn (Cory Monteith) are back on and happier than ever. Same goes for Mr. Schue and Miss Pillsbury (Jayma Mays), except when it comes to his sexual frustration.
Article continues below advertisement
Puck (Mark Salling) has split from Lauren Zizes and Mercedes has a new man from the football team. Tina (Jenna Ushkowitz) and Mike Chang (Harry Shum Jr.) are still going strong.
Blaine (Darren Criss) has transferred to William McKinely to be closer to Kurt (Chris Colfer).
Santana (Naya Rivera) has been named Cheerio's co-captain and once she tries to play for both teams, Mr. Schue banishes her from Glee club.
Other highlight's from last night's episode — Rachel and Kurt branching out on their quest to get into the best performing arts school!
Catch some performances from last night's Season 3 premiere below!
"Ding Dong the Witch Is Dead"