NEWS
'Glee' Cast "Shot All Night" for Michael Jackson's "Thriller" Cover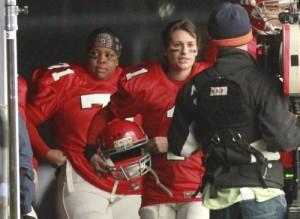 The long wait for Glee to return will be totally worth it — they'll be covering Michael Jackson's "Thriller."
OK! VIDEO: WATCH SOFIA VERGARA IN NUTHIN' BUT A GLEE THANG
"It was a huge production. We we're shooting that until 6:30 in the morning," Cory Monteith told Access Hollywood (via MTV News). "We shot all night, and it was probably one of the most physical numbers that we've ever done. I was lifting Naya Rivera at one point in the dance. It was really active. We had the whole USC band wrapped in to this number as you can see in the photos. It was awesome."
Article continues below advertisement
"I've been pushing very obnoxiously for a very, very long time, so I'm beyond thrilled that we do Michael Jackson," Kevin McHale said of his "favorite artist ever."
And Dianna Agron was so excited by performing the song she smiled the whole time!
"The whole night, everybody kept saying, 'Why are you laughing so much? Why are you smiling so much?' " she told Access Hollywood. "I was just in my element. I was in huge makeup, huge hair, huge costume, the stuff that I loved the most, which is why I loved 'Rocky Horror Picture Show' so much."
OK! GALLERY: THE GLEE GANG GEARS UP FOR SOME FOOTBALL
Even though Matthew Morrison didn't get to perform the song, he still went to the filming to watch it in action.
We actually shot it, like, a couple nights ago," he explained. "I actually went out to see it. We shot it in Long Beach and at a high school that we used their football field at. It was stunning. It's so weird with this show. We keep outdoing ourselves. It's like, 'What is there left to do?' This number is just fantastic."
But that won't be the only fantastic song when Glee returns for their post-Super Bowl show. They'll also be performing songs by Katy Perry, Lady Antebellum and the Black Eyed Peas.