NEWS
'Glee' Gal Dianna Agron Apologizes for Racy 'GQ' Spread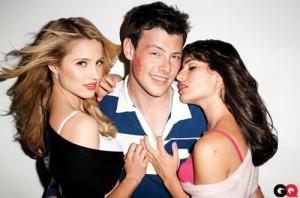 Dianna Agron understands people are offended by her photo shoot with Glee co-stars Cory Monteith and Lea Michele in the November GQ, however, she doesn't regret the provocative shoot. The 24-year-old actress decided to address the GQ backlash on her blog.
If you are part of the public outcry or a concerned member of the Parents Television Council, Dianna is sorry.
With all the controversy surrounding the images — the suggestive cover shows Cory (fully clothed) flanked by his two underwear-clad co-stars — Dianna is speaking out.
Article continues below advertisement
She took to her blog, only speaking for herself not her fellow castmates on the hit Fox show.
"In the land of Madonna, Britney, Miley, Gossip Girl, other public figures and shows that have pushed the envelope and challenged the levels of comfort in their viewers and fans ... we are not the first. Now, in perpetuating the type of images that evoke these kind of emotions, I am sorry. If you are hurt or these photos make you uncomfortable, it was never our intention. And if your eight-year-old has a copy of our 'GQ' cover in hand, again I am sorry. But I would have to ask, how on earth did it get there?"
The up-and-coming actress goes on to explain how her access to the media was closely monitored by her parents.
"I was a very sheltered child, and was not aware of anything provocative or risque in the media while I was navigating through my formative years. When I was finally allowed to watch a movie like Grease, I did not even understand what on earth Rizzo was talking about!?"
Article continues below advertisement
"I understand that in today's world of advanced technology, the internet, our kids can be subject to very adult material at the click of a button," she added. "But there are parental locks, and ways to get around this. I am twenty-four years old. I have been a pretty tame and easy-going girl my whole life. Nobody is perfect, and these photos do not represent who I am. I am also not the girl who rolls out of bed with flawless makeup and couture clothing. I am most comfortable with my hair thrown on top of my head, in sweats, laughing with my friends."
Yesterday, the Parents Television Council released a statement denouncing the photos, by celeb photographer Terry Richardson, as inappropriate and disturbing.
"It is disturbing that GQ, which is explicitly written for adult men, is sexualizing the actresses who play high school-aged characters on 'Glee' in this way. It borders on pedophilia. Sadly, this is just the latest example of the overt sexualization of young girls in entertainment," PTC President Tim Winter said.
Article continues below advertisement
GQ also took the time to defend the cover.
"The Parents Television Council must not be watching much TV these days and should learn to divide reality from fantasy," Jim Nelson, editor-in-chief of GQ, said in a statement defending his cover. "As often happens in Hollywood, these 'kids' are in their twenties. Cory Montieth's almost 30! I think they're old enough to do what they want."