NEWS
The 'Glee' Gang Looks Forward to the Golden Globes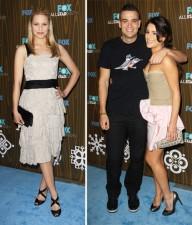 The Glee gang is getting ready for their first major awards show, the Golden Globes! Lea Michele revealed to OK! at the FOX midseason launch party on Monday night that she's picked out her Golden Globes gown. "I can say that it was the first dress I tried on and it was totally not what I was thinking I was going to wear and I am so in love with it. I love classic. It looks good."
Of her Golden Globes day plans, Lea said, "I'm going to get a little massage, I think. My family's going to be in town and I'm going to have breakfast with them and just relax and have a fun good time."
Article continues below advertisement
The star who plays Rachel on Glee is most looking forward to meeting "everyone! I probably won't be able to formulate a sentence to talk to people so I plan on just sitting in my seat and being a little fly on the wall and watching everyone. I'm a huge Meryl Streep and Penélope Cruz fan."
And her co-star Dianna Agron told OK! on Monday night, "I found a dress today. I love clothes. I'm a girl. I'm the most girly girl there is so there's been all this pressure. I just got back from France where I was finishing a movie a week ago and it was this madness of, what are you wearing? Who are you wearing? Who are you talking to? Do you need help? And I said yes to all of the above. I need help!"
But Dianna wasn't left all on her own to find the right outfit, fortunately.
"Luckily, I have great people behind me who have helped me find the dress. It's vintage, from the '50s," she revealed to OK!. "I found it at Decades 2."
Expect a classic look for the Globes on Dianna: "I grew up with Audrey Hepburn and Sophia Loren and Grace Kelly and Leslie Caron, and all those women were such icons to me. I tend to dress very whimsical and girly and I grew up a ballerina, too
Article continues below advertisement
"We're working right now so getting through the week as best as we can and once the weekend hits, I'll probably become very nervous," Dianna admitted. "Come Sunday, I'll probably be very shy."
The Glee guys sounded a little more relaxed about the awards show. Kevin McHale told OK! at the FOX party, "My brother's going to go with me. He's going to be my hot date."
Corey Monteith revealed he'll be wearing a Hugo Boss tuxedo: "It's kind of a modern approach to a tuxedo, so kind of hip and not a bow tie, a regular tie."
Sounds like they'll all be dressed to the nines on Sunday!
CHECK OUT THE GLEE CAST: