NEWS
'Glee' Recap Yes/No: Shocking Proposals & Synchronized Swimming!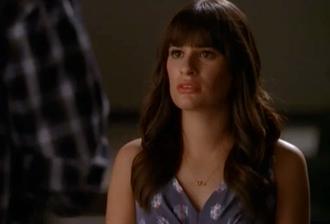 Finally, a Glee epsiode that features more than one song that we love (and want to listen to on repeat the next day!) and a plot twist that leaves our jaws dropped! Glee returned to Fox last night with a "Yes/No" episode that featured a marriage and not one, but two proposals.
OK! GALLERY: THE CAST OF GLEE INVADES THE BIG APPLE
Love was in the air at McKinley High, and it's not even Valentine's Day yet. We won't lie, we may have teared up just a little watching this episode!
Article continues below advertisement
**WARNING! SPOILERS BELOW!**
Sam Evans (Chord Overstreet) and Mercedes Jones (Amber Riley) reminicised about their summer romance, but Mercedes has a new boyfriend. Will they stay friends or get back together? We'll have to find that out next time!
Coach Beiste (Dot Marie Jones) revealed that she and Cooter Menkins (Eric Bruskotter) eloped after confessing their love for each other at a Taco Bell. Congrats!
The news, however, sent Emma Pillsbury (Jayma Mays) into jealous mode and she confronted Will Schuester (Matthew Morrison) to see if he ever planned on marrying her. After asking for her parents permission, Will had doubts that a marriage with Emma would last due to her OCD. Still, Will assigned New Directions to come up with the perfect proposal song to sing to Emma.
We also learned that Becky Jackson's (Lauren Pooter) inner thoughts are narrated by Helen Mirren! Becky decided she wants to date Artie Abrams (Kevin McHale), but after a couple dates, Artie told her he just doesn't feel that way about her.
Article continues below advertisement
Finn (Cory Monteith) considered joining the army after graduation, but was talked out of by his mother after he learned the truth about his father's past. Instead of being the war hero Finn thought, his father was really dishonorably discharged and died of a drug overdose. The devastation, however, brought him closer than ever to Rachel Berry (Lea Michele).
OK! NEWS: HELEN MIRREN LOVES KEVIN MCHALE ON GLEE — "GREAT VOICE" & "REALLY GOOD ACTOR"
In the end, Gleeks were treated to two proposals!
Sam, who decided to join the synchronized swimming team, choreographed the perfect number in the pool to help Will propose to Emma. The New Directions swam and sang Rihanna's "We Found Love" — an interlude that ended with Will walking on water to Emma and popping the question. How romantic! We can't wait for them to have babies!
But that wasn't the final proposal of the night. In a complete twist, Finn proposed to Rachel on the auditorium stage where they had their first picnic date together.
Article continues below advertisement
"I know it's not a swimming pool full of dancers, or a tux, or it's not very big, but it's a promise," Finn said. "A promise to keep loving you for the rest of my life. All you have to do is say yes. Rachel Berry, will you marry me?"
And of course, Glee ended before Rachel could give her answer! AH! Will she say yes?
Watch the big proposal scene over on Glee's Youtube page!
Songs from "Yes/No" included:
Sam/Mercedes — "Summer Lovin"
Emma — "Wedding Bell Blues"
Artie — "Moves Like Jagger/Jumpin' Jack Flash"
Lea, Santana (Naya Rivera), Amber and Tina (Jenna Ushkowitz) — "First Time Ever I Saw Your Face"
Lea — "Without You"
Glee cast — "We Found Love"
What was your favorite proposal of the night? What was your favorite performance?