NEWS
'Glee' Song Spoiler Alert!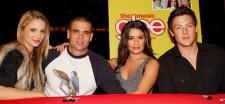 If you love being surprised by the auditory offerings sung each week by the cast of Glee, stop reading now! But if you want to find out exactly which songs will be appearing on Wednesday night's episode — available now on iTunes — find the list after the jump!
While we don't know just yet what kind of drama will go down on Glee (will Quinn's true baby daddy be revealed? How will Mr. Schu deal with Rachel's crush?), check out the song list:
Article continues below advertisement
• Diana Ross and Lionel Richie — "Endless Love"
• The Pretenders — "I'll Stand By You
• Jennifer Paige — "Crush"
• Paul Anka —"(You're) Having My Baby"
• Bill Withers —"Lean On Me
• A cast mash-up of The Police's "Don't Stand So Close To Me" with Gary Puckett and the Union Gap's "Young Girl."
We can't wait!