NEWS
'Glee' Stars and Producers Spill About Fourth Season at Comic-Con (Spoilers!)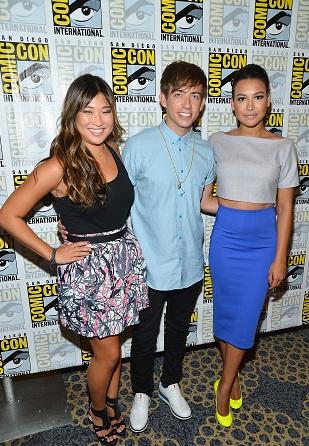 This may have been the most-anticipated Comic-Con for Gleeks ever, due to the show's ambiguous direction now that many of its central characters are ready to leave McKinley High; Lea Michele, Cory Monteith and Chris Colfer are the only regulars that have been confirmed to continue on the show in the same contractual status. Stars and fan favorites turned up on the panel last night, along with executive producers Brad Falchuk, Ian Brennan and Dante Di Loreto, to field the burning questions. Spoilers reported by The Hollywood Reporter are ahead!
Article continues below advertisement
OK! GALLERY: LEA MICHELE & CORY MONTEITH COZY UP AT VERSACE HAUTE COUTURE SHOW IN PARIS
It was revealed that The Glee Project's Damian McGinty will not be returning, at least not for the first half of the fourth season. "Damian is not back this year," Falchuk said. "The second half of the season, who knows. Right now, he won't be in the first half of the season."
Producers would like to bring back other Glee Project alums; Samuel Larsen and Alex Newell, specifically. Among other returns; Chord Overstreet (Sam), Vanessa Lengies (Sugar Motta), and Grant Gustin (Sebastian). This seems like a good time to mention that because of the series' large cast and all-over-the-geographical-map storylines, producers said that "almost no one" will be featured in every single episode. You probably figured that out already, but just in case.
OK! GALLERY: GLEE STARS LEA MICHELE AND CORY MONTEITH SHOW OFF THEIR ROMANCE IN NYC'S SOHO
In Glee baby news, producers say Sue Sylvester will have had her baby when the season premieres, but the identity of the child's father is still a secret -- the identity will be revealed in the first half of the season, though, so fans won't have to wait too long. "She's now Sue with a baby and a different set of priorities but still can't help but make fun of everyone as often as possible," Brennan said of Jane Lynch's character, who will also have to deal with swim coach Roz Washington (that's right, NeNe Leakes returns).
Article continues below advertisement
Meanwhile, as hard as it is for anyone who has been through high school to believe it, life does go on in there after you leave those halls for the last time. Kurt is still in Ohio and is trying to help Will (Matthew Morrison) repopulate New Directions, which is fledgling. "That room is half empty and they're desperately trying to get 12 kids for Sectionals," Brennan said. Also Will and Emma (Jayma Mays) are still engaged, but a wedding won't happen anytime soon.
Kurt also continues his personal struggles; after being rejected from the New York Academy of the Dramatic Arts, he is trying to figure out what he wants to do. "Kurt, to me, is one of the most interesting characters because he has to face the most diversity… he's Kurt in Lima, Ohio, and because of that, he has this ability to be resilient than probably any other character on the show and it was interesting for us to put him in a tough spot." Producers also hinted that since Kurt and Rachel are best friends, it'll be hard to keep them apart for long, so we can assume he eventually finds his way to New York. We're not sure what that means for him and Blaine (Darren Criss). Producers say the couple is safe for now but Kurt's presence in New York will probably be a comfort for Rachel, who is no longer the star student. "Now she's in a school with 1,800 other Rachel Berrys," Lea said. Kate Hudson guest-stars as her teacher at NYADA.
Article continues below advertisement
Finn is indeed army-bound, and producers confirmed that Cory is getting his head shaved next week! Of course, this spells drama for the Finn-Rachel relationship.
Season 4 also finds Santana cheerleading at the University of Louisville, and Naya Rivera noted that she hopes her character's romance with Brittany (Heather Morris) continues to stay strong. Another Brittany spoiler: the second Britney Spears tribute episode will be the second episode of the season, and will also feature Rachel heavily. Tina (Jenna Ushkowitz) and Mike (Harry Shum Jr.) are struggling with the long-distance thing, and Jenna and Kevin McHale mentioned they are game for their characters to reunite if something should happen!
The fourth season of Glee starts Thursday, September 13 at 9 p.m. on Fox.