NEWS
'Glee' to Unite with 'Jersey Shore' as Presenters at 2010 VMAs!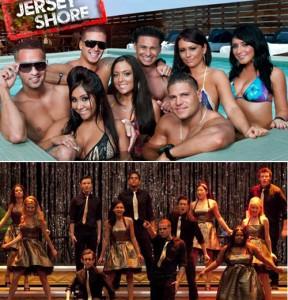 Looks like the 2010 VMAs are going to be filled with "GTL" and lots of Glee-ful moments! The cast of hit MTV reality show, Jersey Shore, and the FOX musical sensation, Glee, will both take the stage as presenters at the this year's Video Music Awards. The groups join a star-studded list of presenters!
Glee cast members Jane Lynch, Cory Monteith, Chris Colfer and Amber Riley will be on hand to present at the award show.
Article continues below advertisement
In other VMA news, talk show host Ellen DeGeneres will be taping an episode of her show at the VMAs, along with presenters Cher, Katy Perry, Chris Pine, Rosario Dawson, and the cast of Jackass including Johnny Knoxville, Bam Margera, Steve-O, along with reality-show starlet Kim Kardashian.
Audrina Patridge will be the official MTV International "2010 MTV Video Music Awards" red-carpet guest correspondent. Also, Nicki Minaj will take the stage during the pre-show portion of the ceremony, while model Coco Rocha will host MTV.com's "Red Carpet Report."
As for the performance lineup — Mary J Blige and Swizz Beatz will hit the stage with Drake, along with Bruno Mars who will join MC B.o.B. The newest list of performers is added to Eminem, Kanye West, Justin Bieber, Linkin Park and Usher.
The 27th annual MTV Video Music Awards will be broadcast live from the Nokia Theatre in L.A. on Sept. 12 at 9 p.m.