NEWS
Gleeful News: Madonna Gives 'Glee' Rights to Her Music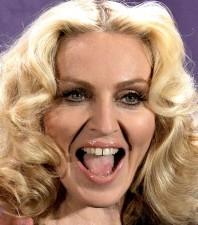 Calling all Glee fans! Madonna herself has given Glee the rights to her extensive catalog of music and an all-Madonna-music episode is in preparation for early next year, Entertainment Weekly reports.
The hit Fox series has audiences across the country singing, and Madge's involvement speaks to the magnitude of the show.
Glee heartthrob Mark Salling expressed his excitement in an interview with Just Jared.
Article continues below advertisement
"I've been dreaming of singing Madonna since I was a little girl. (laughs) So this was a really big thing!" Mark tells Just Jared. "I would say, what's one of her songs? I mean. I'm a dude I don't even know. (laughs)"
Mark's castmate Dianna Argon will be singing Madonna's 1986 hit "Papa Don't Preach" in an upcoming episode, according to E! News.
The song, about a woman telling her dad she is pregnant and plans to keep the baby, seems like an appropriate choice for Dianna's character Quinn Fabray, a pregnant high school cheerleader.