NEWS
Glee's Christmas Episode: The Kurt and Blaine Scene You Didn't See! What Was In The Box?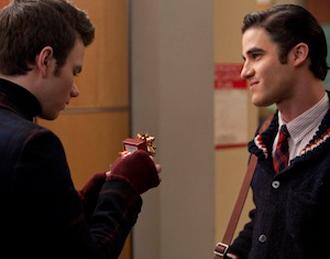 Last night on Glee, viewers were treated to a rousing send-up of old holiday Christmas specials from Judy Garland's holiday show to the cult classic Star Wars Holiday Special when the kids of New Directions got the chance to have their own show on local television.
From Kurt and Blaine hosting from their "humble abode" and giving a rousing rendition of "Let It Snow" to Finn and Puck's take on Bruce Springsteen's "Santa Claus Is Coming To Town," it did not disappoint.
Article continues below advertisement
However, fans were outraged when they realized that a major scene was cut. Glee, just weeks before, released a promotional still of Blaine giving Kurt his Christmas present in the McKinley hallway. And ZOMG! It looked like a ring box. Klaine fans were eager with anticipation for this long-awaited scene of their first Christmas together. But the scene ended up on the cutting-room floor.
OK! NEWS: GLEE CAST: 'ALL I WANT FOR CHRISTMAS IS YOU' WITH AMBER RILEY, LEA MICHELE AND MORE!
Twitter was flooded with Klaine fans asking Darren Criss and Chris Colfer, among others, "What was in the box!?" Darren must have felt the heat as he Tweeted a behind-the-scenes pic from the episode to his followers, with the message: "Seasons Greetings, everyone! With love from me, @chriscolfer, @msamberpriley, @msleamichele & @mark_salling. #glee"
So, what was in the box? It was a promise ring made out of gum wrappers, according to TVLine.com. Awwww.
Article continues below advertisement
OK! NEWS: LEA MICHELE DISHES ON HER 'GLEE' FATE! SAYS SHE WILL "TAKE IT ONE DAY AT A TIME"
Blaine apparently wanted to get Kurt something from the Elizabeth Taylor collection, reports TVLine, but he just couldn't afford it. How sweet!
So, why would Glee cut this precious scene? Apparently, the episode ran long, but they do report that it will be included on the Season 3 DVD! But will Kurt be seen wearing this ring on future episodes and it just won't be explained? Guess we will have to wait and see!
And that wasn't the only scene left on the cutting-room floor. Naya Rivera's Santana singing "Santa Baby" as she helped Finn pick out Rachel's Christmas present also didn't make it. But TVLine reports that that scene will be made available online soon.
What do you think Klaine fans? Do you want the Klaine scene released soon too? Do you think Kurt will be seen wearing the ring when the show returns in January?